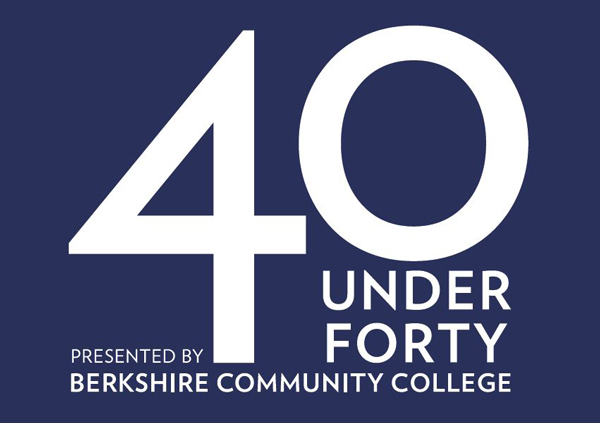 When & Where?
Thursday, March 29, 2018
Berkshire Plaza Hotel
1 West Street
Pittsfield, MA 01201
(Formerly Crowne Plaza Hotel)
5:00 PM — Reception
6:00 PM — Ceremony
Cost — $50 per ticket
(includes reception with heavy hors d'oeuvres and cash bar)
Get Directions
Presented by:
Brian Astorino
Greylock Investment Group

Amanda Bankowski
Child Care Center Software, Inc.

Nakeida Bethel-Smith
Elizabeth Freeman Center

Sharra Blache
Gladys Allen Brigham Community Center

Jaime Campbell
The Guardian Life Insurance Company of America

Matthew Chester
The Sherman Investment Group of RBC Wealth Management

Amanda Chilson
Northern Berkshire Community Coalition

Sara Clement
Hamilton Relay

Elia Del Molino
Berkshire Environmental Action Team (BEAT)/Greenagers

Julia Dixon
BerkshireFlirt, LLC

Jason Dohaney
MountainOne Investment Group

Nataly Garzon
Berkshire United Way

Danielle Gonzalez
Williams College

Jay R. Green
Amtrak

Elizabeth Hartung
Massachusetts College of Liberal Arts

Christine Hoyt
Berkshire Community College

Alyssa Kenny
General Dynamics Mission Systems

Deanna Markham
Berkshire Bank

Mathew Painter
Berkshire Health Systems

Ashley Persip
Iredale Mineral Cosmetics

Karden Rabin
Boundless: Center for Holistic Pain Solutions

Alex Reczkowski
Berkshire Athenaeum

Jill Reynolds
Cheshire Glassworks

Annie Rodgers
Stay at Home Parent

Steve Rogers
Pittsfield Cooperative Bank

Destiny Saunders
Elizabeth Freeman Center

Chad Scovil
Wellington, Inc. Funeral Service

Jessica Shandor
Jiminy Peak Mountain Resort

Geraldine Shen
Sand Springs Recreational Center

Bryan Slater
Gamma Broadcasting, LIVE 95.9

Ellen Sorrentino
Hillcrest Educational Centers

Klara Sotonova
Klara's Gourmet Cookies, LLC

Alicia Stevenson
Berkshire Children & Families, Kids 4 Harmony

Kait Stinchcomb
Berkshire Theatre Group (BTG)

Paloma Suarez
Community Health Programs (CHP)

Jessica Sweeney
ROOTS Teen Center

Leah Thompson
BART Charter Public School

Ananda Timpane
Railroad Street Youth Project

Colin Toole
Toole companies

Jessica Vecchia
Alchemy Initiative

You can now view photos of the 2017 event on BCC's Flickr page!

Click on the image below to flip through the Berkshire Eagle's 2017 40 Under Forty supplement and view winner profiles.