Campus Life Spotlight

One tree on BCC's Main Campus always seems to change colors early. It morphs and the beautiful orange-yellow bursts signal that fall is here. Just a stone's throw away from that changing tree, a more significant physical transformation, accompanied by a symphony of "beeps" and "clunks" from construction equipment, is underway. Melville Hall is being transformed.

Next door to Melville stands Hawthorne Hall. Renovated earlier this summer, Hawthorne Hall, the home of BCC's biology, nursing and allied health labs, welcomes students for fall classes.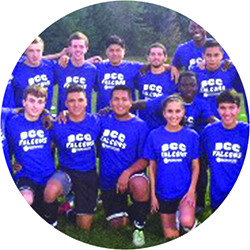 Campus Life Spotlight

Berkshire Community College has several club sports teams including: cross country running, basketball and soccer.