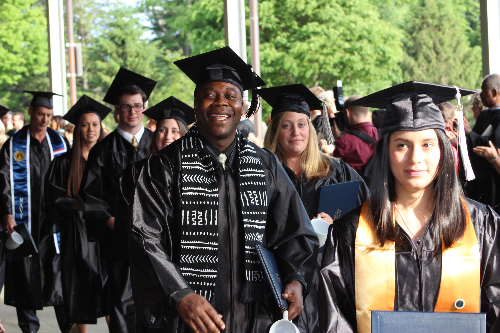 May 29, 2015
Berkshire Community College held its 55th Commencement ceremony Fri., May 29 at Tanglewood in Lenox. During the ceremony, which was open to the public, the college awarded 269 associate degrees and 82 certificates to 330 students.
BCC's President Ellen Kennedy welcomed attendees and provided inspiring remarks for the institution's graduates. Senator Elizabeth Warren served as the keynote speaker.
Dr. Frances Feinerman, vice president for academic affairs, introduced the valedictorian – Juan José Carrión-Almeida.
Several retired professors received the distinction of Professor Emeritus including: Christine Adams, Professor Emeritus of English; Kathleen Gowdey, Professor Emeritus of Business Software Systems and Sandra Ketcham, Professor Emeritus of Mathematics.
Members of the Berkshire Highlanders provided the music for the processional and recessional and the National Anthem was sung by BCC student Lindsay DeWinkeleer.
Program advisors awarded graduates with the following associate degrees: Business Administration, Business Careers, Business Software Systems, Computer Information Systems, Criminal Justice, Engineering, Engineering Technology, Environmental Science, Fine Arts, Fire Science, Health Science, Hospitality Administration, Human Services, Liberal Arts, Nursing, Physical Therapist Assistant and Respiratory Care.
Certificates were awarded in Health Information Management, Medical Coding Technical Skills, Business Software, Computer Information Systems Networking, Computer Information Systems Programming, Physical Fitness, Culinary Arts, Human Services, Animal Care, Early Childhood Education Introductory, Music Production, Physical Fitness, Practical Nurse and Massage Therapy & Bodywork.
Twenty-one students received more than one degree or certificate. The age of graduates ranged from 18 to 77 with a median age of 27.
The graduates, listed by city and state, include the following:
Connecticut
Canaan: Cady Bloodgood and Isabel Castaneda.
North Canaan: Darlene Webb
Salisbury:Theresa Lefferts
Florida
Lutz: Jason Blake
Georgia
Midway: Misty Corio
Massachusetts
Adams: Ashley Allard, Kristi Briggs, Rachel Butler, Hollye Caron, Jeffrey Caron, Nathan Caron, Madison Collins, Nathan Dudziak, Kalvin Dziedziak, Erica Egnaczak, Joshua Gould, Celeste Hardcastle, Shannon Lennon, Karl Lincoln, Allison Morris, Lee Nunez, Meaghan Shepard, Sarah Williams and Shannon Zaleski.
Ashley Falls: Olympia Casivant
Becket: Emily Daigneault, Katelyn Hamling, Lanny Rose and Nicholas Sawyer.
Cheshire: Alicia Foisy, Jeanette Lofaro, Sean Oswain, Jaydeep Patel, Barbara Proper, Kate Reardon, Tracy Rod, Richard Royal, Yormary Shogren, Nicholas Staffin and Peter Welker.
Chesterfield: Ashley Henshaw
Clarksburg: Carlyle Chesbro, Kayli Manning, Cynthia Schock and Sarah Underwood.
Cummington: Kelsey Bourdon
Dalton: Portia Adjei-Donkor, Assian Ahizi, Dylan Bencivenga, Karen Bradley, Oliver Brown, Ralph Gardner, Nickolas Gaudette, Lee McCasland, Kaitlin Montgomery, Mary Smith, Colin Suchenicz, Chad Tarves and Dustin Van Fleet.
Easthampton: Jennifer McCready
Great Barrington: Ryan Arnold, Todd Finkle, Brooke Mars, Mary Kate McTeigue, Parkpoom Seesangrit, Hope St. Jock, Miles Weber and Claudia Zapata .
Hinsdale: Babita Angurala, Brittany Bolio, Brandon Gill, Wayne Kokindo, Caitlin Livey, Amos Pike, Angel Squires, Robert Stanton, Elizabeth Suriner and Teri Vitro.
Housatonic: Eric Atwood, Blythe Hinkley-Grady, Lindsey Martin, Anson Olds and Shea Potoski.
Lanesboro: Ashlyn Castonguay, Krista Moriarty, Victoria Nichols, Rachel Sawyer, Daniel Scorpa and Stacy Soldato.
Lee: Kelly Abdalla, Rose Adelstein, Lisa Catullo, Andrew Gagnon, Jacquelyn Laudon, Samuel Resnick, Frank Rocco, Carrie Rogers, Paula Salazar, Caitland Stalker, Stephen Streeter and Helen Ward.
Lenox: Wenhui Chen, Katherine Crawford, Brittany Gable, Jennifer Griffin, Elisa Henderson, Lina Leskovitz, Taurus Londono, Jennifer Valente and Laurie Vilord.
Lenox Dale: Amy Koscielniak
Mill River: Graham-Michael Frank
North Adams: Philip Bowen, Amber Douthit, Athena Furtado, Cyrus Furtado, Tiffany Gray, David Leonard, Marcia Mowe, Brittany O'Keefe, Toby Randall, Christen Shea and Ileana Whiteman.
Otis: Cynthia Paterson
Peru: Kathleen Autenrieth
Pittsfield: Akosua Acheampomaah, Alejandra Aguilar, Tammy Alexander, Rosine Anwobor, Cameron Arace, Meghan Babcock, Stephani Bartolotta, Amanda Barton, Alexander Bassett, Rene Batho, Matthew Battaini, LaKeisha Beckett, Michelle Bedard, Scott Belanger-Brown, Kasey Benner, Katherine Bernal, Mary Berrio, Rachel Bigelow, Neal Blair, Shauna Blake, Danielle Boisvert, Justin Bolio, Samantha Bolio, Christine Borrero, Shirley Borrero, Carolyn Bowler, William Bradford, Christopher Broast, Gabriana Brooks, Carol Burnell, John Burr, Annmarie Campbell, Dylan Carman, Juan José Carrión-Almeida, Rychelle Carrion, Kelly Carroll, Terence Carty, Shelbey Casella, April Castonguay, Edson Chipalo, Christina Christiana, Ashley Clark, Mayra Columna, Kaitlyn Conner, Gina Cor, Michelle Deame, Kyle Delsoldato, Donna Denham, Sarah Deschamps, William Dewhirst, Gail Dickerson, Hope Dillard, Justin DiSantis, Lisa Dobson, Sara Donovan, Tan Do, Catherine Dullaghan, Brian Duma, Prince Fianko, Kimberly Figueroa, Penny Fletcher, Adrienne Formel, Myla Franklin, Jesse Gamberdella, Valerie Goly, Jacquelyn Graves, Adam Greaney, Melissa Guinen, Nicole Hall, Tyler Hamilton, Gerould Harding, Kolubah Harris, Emily Hayes, Katelynne Hisert, Sarah Hoose, Rebecca Hover, Johannah Hunter, Renee Huyghue, Taylor Jackson, Jessica Jezak, Paul Johnson, Shane Johnson, Michael Kalinowsky, Quanda Kelsey, Katie Kiernan, Cortney King, Dawn Kinney, Noah Kirkman, Lindsey Knysh, Wendy Koomson, Ryan Kordana, Yao Silvere Kouame, John Krebs, David Lagerbom, Michelle LaJoie, Sarah Lampro, Michael Lane, Michaela Langlais, Nelson Lantigua, Evelyn LaRoche, Trisha LaShomb, Erin Latimer, Natasha Latini, Steve Lauren, Sharon Leary, Kayla Lekov, Tyler Lord, Kathleen Loria, Shaun Mattoon, Blanca Maysonet, Tanya McClellan, Patrick McDonough, Arleta Mongue, Teresa Monterosso, Elizabeth Morehouse, Christina Mucinski-Gargon, Christopher Murray, Kelvin Mwai, Heather Nielsen, Georgina Opoku, Peter Paoli, Kevin Phillips, Dorothy Pixley, Patrick Plantier, Kevin Polidoro, Megan Polidoro, Tonya Pupo, Imogene Purry, Cameron Rahilly, Cody Reagon, Matthew Reardon, Jamie Richardson, Georgina Riley, Paige Sacchetti, Francisco Santana, Cassey Santos-China, Jacob Scace, Michelle Scapin, Andrew Schiltz, Ann Marie Shaw, Jessica Shaw, Kathleen Sheerin, Blaise Silipa, Nixon St. Bernard, Ezzard Starks, Kayley Stasiewski, Samantha Stedman, Emily Sterritt, Ashley Strack, Natalie Stracuzzi, Stacie Street, Peter Tangherlini, Brittany Taylor, Tracie Thomas, Alexander Tierney, Gabrielle Tooley, Meagan Trembley, Ryan Tuggey, Reeve Twiss, Jose Velis, Cassandra Voci, Shane Voci, Tabitha Walker, Kyle Warner, Jacquelyn Weatherwax, Nicholas Webb, Robert Wehry, Michael Welch and Amanda Wojtkowski.
Sandisfield: Michael Carr
Sheffield: Amanda Beckwith and Marianna Gulotta.
Shelburne Falls: Felice Wolfzahn
South Egremont: Melissa Byrne and Alexandra Norris.
South Lee: Jade Coty
Springfield: Edmond Browne, Rose Brown, Thrisha Maldonado, Mariama Sonnah and Guyseymore Wilson.
Stockbridge: Katharine Race
Tyringham: Pamela Curtin
West Stockbridge: Bryn Davis, Nicholas Garrett, Abigail Hanley and Roberta Sortzi.
Weymouth: Caroline Maina
Williamstown: Michael Bullock, Ann Pfister, Patricia Raphael, Patricia Shartrand and Martha Whaley.
Worthington: Alysha Langdon
New York
Canaan: Shaun Huls
East Nassau: Kimberly Chuck
Old Chatham: Jennifer Hart
Petersburg: Tammi Haines
Spencertown: Todd Van Alstyne
Vermont
Arlington: Ann Mattice
Jacksonville: Paul Croutworst
Stamford: Sean Derby-Kilfoyle and Ann Fyfe.