Berkshire Community College (BCC), in partnership with 1Berkshire and the Berkshire Eagle, have launched the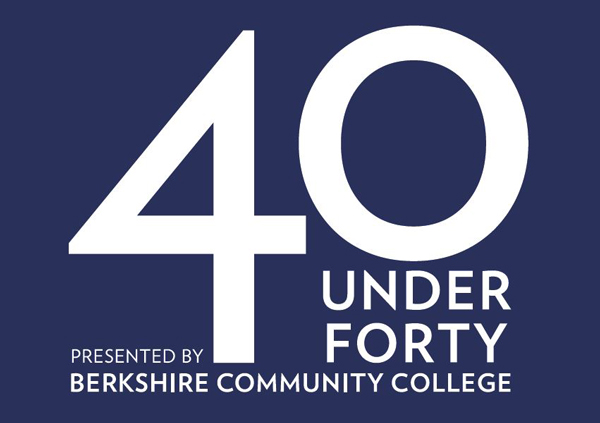 Inaugural Berkshire County 40 Under Forty Awards. The event aims to recognize outstanding young professionals who are excelling in their industries through their leadership roles.
The event, slated for the evening of Thurs., March 24, 2016, will be held at Berkshire Hills Country Club. According to Craig Smith, BCC's vice president for institutional advancement and executive director of the BCC Foundation, the selection process will be competitive and nomination driven. Nominees should demonstrate a commitment to business success, personal growth and community involvement.
BCC President Ellen Kennedy said, "I'm excited to have an event in Berkshire County that honors young professionals. Our region has a unique business economy ranging from the arts to hospitality to manufacturing. There's great potential for growth in Berkshire County on many levels. Young professionals bring new ideas and energy to the region. We want them to stay in the Berkshires. Recognizing our current and future business leaders who serve as role models can inspire others to follow in their footsteps."
Nomination forms will be available at www.berkshirecc.edu/40underforty beginning Dec. 4. The submission deadline is 4 p.m. on Fri., Jan. 8. Honorees will be announced in a special section of the Eagle on March 2, 2016.
The event is a major fundraiser for BCC. Monies raised will support a variety of initiatives at the College.
"I'm incredibly pleased and encouraged by the enthusiastic response we've received from local businesses thus far," said Smith. "We will be seeking additional sponsors from now through January, and hope to sell out the event. We're off to a great start!"
Tickets, which will cost $40, will be available for purchase in early 2016 at www.berkshirecc.edu/40underforty.
The event will include a reception with heavy hors d'oueuvres and other light fare. A cash bar will be open throughout the event.
Presenting sponsors of 40 Under Forty to date include: St. Germain Investment Management, General Dynamics Mission Systems, Guardian Life Insurance Company of America and Crane. For information about sponsorship opportunities, contact Smith at csmith@berkshirecc.edu.