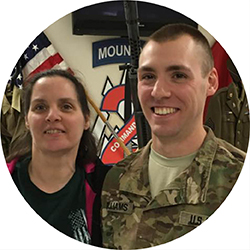 Student Spotlight
Craig Williams
Associate Degree in Nursing
my

service

For Craig Williams, the path to college has been one with many twists and turns. Born in New York State, Craig and his family moved to Florida for 15 years before moving to North Adams, Massachusetts in 2007. "I never was an outstanding student in high school," Craig recalls. "It was not fun or exciting to me, and I felt like there was no sense of purpose."

After graduating high school, Craig decided to join the military. "I never wanted to attend college because I did not believe it was a place for someone like me, which led me to enlist in the military as a way to serve my country," he says. His plan was to be a helicopter pilot (specifically, to fly CH-47 Chinook heavy-lift helicopters), and then become a life flight pilot for hospitals. But that plan did not materialize. After securing his position in flight school, Craig did not meet the minimum weight requirement for the military and lost his slot. He ended up serving six years with the U.S. Army, including a tour in Afghanistan in 2012.

After leaving the military in 2017, Craig wasn't sure what he wanted to do. He took a job at Home Depot in Pittsfield, but after two years, he decided it was time for a change.

"I realized I was unhappy and needed something more fulfilling to give me purpose," he says. "I took some time to myself and started looking into the programs that BCC had to offer, and I spoke with some friends who had previously attended classes there."

Finally, he says, he decided the worst that could happen was that he wouldn't like college and would have to figure something else out.

That mindset was reinforced by a close friend, who made Craig realize that "if I could spend six years of my life in the military, I could give one semester a chance. What did I really have to lose?"

Still, taking the leap was not easy. "Honestly, I was nervous going through the application process and the days leading up to attending my first classes," Craig says. "Everything was uncharted territory."

Despite the uncertainties of going to college, entering the nursing program was a natural choice for Craig.
Growing up, I always had a fascination with helping others, so I figured I would join the military, police or the nursing field," he says, adding that his experience in the military furthered his interest in healthcare.
Craig attended new student orientation, where he met "some wonderful people," including some who are currently in the Associate Degree in Nursing (ADN) program with him. His fears of not fitting in soon disappeared.
The atmosphere at BCC is different than I expected it to be as a non-traditional student. I found great support from faculty from the moment I started my journey," says Craig, a first-generation college student. "I quickly found that there were other veterans on campus, and that not every course was full of young adults fresh out of high school, which was a huge relief."
He is particularly grateful for the support he received from Student Advising Coordinator Tammy Westlake, as well as now-retired staff members Sherry Scheer and Marsha Burniske. "They set me up for success at BCC. They went above and beyond to ensure I was prepared before I stepped into my first classroom on day one," he says.
Craig says his most memorable moment at BCC was in 2020 when he attended a Day of Service at Soldier On in Pittsfield. "I was so happy to see the number of students and members of the community who chose to visit with veterans of our military branches," he says. "It not only brought me closer to other veterans in the community, but it also showed me how much BCC supports veterans like myself."
Now in his final semester at BCC, Craig is on track to graduate from the ADN program in June.
I have built upon the foundation set by my military service and have challenged myself to chase my dream of becoming a professional nurse.
Currently, Craig is weighing his options for furthering his education after graduating: either pursuing a bachelor of science in nursing (BSN) degree or enter a Registered Nurse – Master's in Nursing (RN-MSN) program.
What does the future hold for Craig? "I have always pictured myself working in an emergency department where I can be busy and challenged often," he says. "I also have a love for wound care, as I am fascinated by how the body heals."
Now on the cusp of earning his associate degree, Craig realizes college is for him — and he encourages others to give it a try, even if they have doubts.
My number one piece of advice is to put in the work, challenge yourself and achieve what you are capable of. It is never too late to try something different, no matter what obstacles you might have to overcome. It doesn't matter if you are 18 or 65. The only thing holding you back is yourself if you don't try.