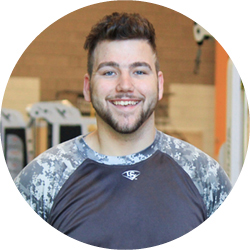 Student Spotlight
Dalton Nicholas
Health Science
my

own journey

Dalton Nicholas, a student at Berkshire Community College, loves fitness. He is pursuing his Associate's degree in health science at the College, and his love of the gym has him training at Paterson – and personally training others, too.

Dalton says about why he's keen on staying fit:
"I was obese for 18 years. And I wanted to make a change. People kept saying I was savage at the gym – so I use that as inspiration during my workouts – with the phrase 'Be Savage, Not Average.'"
Dalton originally came to BCC to study the liberal arts – as he wanted to teach. He's from North Adams, and thinks that BCC was the right decision. "The commute was easy and I saved tons of money." He plans to graduate by spring, 2018.
Dalton plays on the Falcons Basketball team and is the team's highest scorer. He was named the National Club Basketball Association (NCBBA) Player of the Week after he played three games against Goodwin College and averaged 14.3 points per game.
Dalton would like to eventually save money and buy a gym – his goal is to move south, somewhere closer to the beach. BCC allows him free access to Paterson gym – and a chance to do personal training on campus. He currently is overseeing the training of Adam Klepetar, the College's Vice President of Student Affairs and Enrollment Management.
"Dalton takes his role seriously and approaches personal training like a professional," Klepetar said. "He explains why we're doing what we're doing, asked me about my goals and background on fitness – and then crafted a program around my personal goals."
Klepetar likes to be physically fit and says he likes the level of accountability. "It's nice to have someone else set up a plan. Dalton helps me to try new things and machines that I otherwise might be intimidated to use," Klepetar said. "I don't get bored."
Dalton has also started an Instagram account called Lifting Standards (@liftingstandards) where he takes photos to inspire folks to meet their lifting goals – and to sell or giveaway merchandise like shirts, shorts, and tank-tops. "I started the account to show my personal fitness journey and to show my progress, but it was also later a chance to make some extra money," Nicholas said. "I respect anyone who is in the gym because they are lifting their standard of life. Someone who is 450 lbs. and in the gym should be respected because that's a huge step in their life."
When Dalton looks back at his two years here, and his current situation where he's successfully doing exactly what he loves, he says he feels amazed.
"In high school I graduated with a 1.9 GPA. I didn't like what I was learning. Here, I pick what I want to take. Now I have a 3.2 GPA because I'm interested in fitness."
Dalton adds that while a bad relationship may have tossed him into the gym more regularly, BCC helped inspire him to seek fitness as a life-long goal, "If you're not taking care of yourself, how can you take care of the 'stuff' you have to do all day?" He asks, adding, "You only get one body. I want to live past 60."