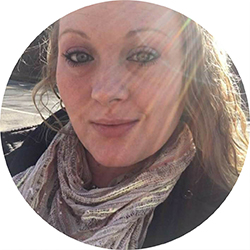 Student Spotlight
Danielle Harriott
Practical Nursing
my

path

When Danielle Harriott received an email announcing she had been selected as BCC's honoree for the Commonwealth's 29 Who Shine program, she was "shocked and surprised. It's not something I'm used to," she says.

But for Amanda Davis, Adjunct Nursing Faculty who mentors Danielle and nominated her, it was an easy choice.
Danielle is not only an accomplished LPN student, but she is also widely regarded as a pleasure to work with, especially in her role as a Certified Nursing Assistant (CNA) on the surgical floor at Berkshire Medical Center," Davis says. "I nominated Danielle because she is a great student who has a wonderful way of communicating with her patients. I had her in my LPN clinical group, and she always came ready and prepared. Working with Danielle, I know she'll be a great nurse."
The 29 Who Shine program, launched by the Massachusetts Department of Higher Education in 2011, recognizes 29 outstanding student graduates from the Commonwealth's public higher education system. Each honoree shows exceptional promise as a future leader and has a strong record of academic achievement and civic engagement.
"I've wanted to be a nurse since I was a child," Danielle says, acknowledging that she didn't follow a typical educational path. In 2010, with three children under the age of three — a daughter and twin boys — she decided to go back to school. She completed her pre-requisite classes at Capital Community College in Hartford, Connecticut and got into the nursing program, where she completed three semesters before deciding to work full-time as a CNA. Eventually moving to Massachusetts, Danielle began working at Laurel Lake nursing home (now Lee HealthCare) and at Berkshire Medical Center. There, colleagues encouraged her to continue her education, and BCC kept popping up in the conversation. "I finally took the leap and chose BCC, and I'm glad I did," Danielle says.
As a single mother, choosing to go back to school was a hard decision," she says. "Sometimes, I feel selfish for taking away time I could be giving to my children, but at the same time, I'm showing them what stability, hard work and dedication look like." She recommends that single moms struggling with the decision of whether to further their education should take it one step at a time. "Don't take on more than you handle. If you have to wait another year to begin school, don't beat yourself up for it. Figure out what works best for you to be successful with both your family and your education, even if that means taking four years to complete what typically takes two," she says.
Her advice to those considering a nursing career: "Get yourself more comfortable with working with people. It's not just meds and paperwork," Danielle says. "You're caring for a human. You have to know how to do that before anything else." She credits BCC's small class size and personalized instruction for giving her the foundation of self-confidence necessary in her career. "Almost every person I've talked to at BCC is extremely helpful. They go above and beyond to figure out how to accommodate your needs."
Now seven months into a ten-month LPN program, she plans to apply to BCC's bridge program (transitioning from an LPN to an Associates Degree in Nursing), but she is still working to figure out her career goals.
"I haven't found my exact niche yet, but I know I want to be working with people hands on," she says, adding that she's considering a career in at-home care or hospice.

"The biggest thing that draws me to nursing is being able to make that difference — to be there for people, to be a friend or a listening ear and know they trust you. It definitely makes all of it worth it."