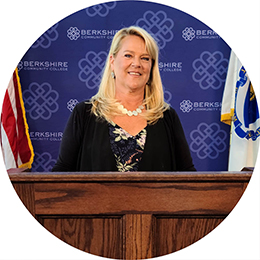 Student Spotlight
Denise Foss
Early Childhood Education
my

Accomplishment

Denise Foss is the 2020 Berkshire Community College Valedictorian, having earned a 3.99 GPA overall and a 4.0 GPA for her classes while she was a part of the Early Childhood Education (ECE) cohort at the College. She will give her remarks to her fellow 200+ graduates via a recorded video — as the COVID-19 pandemic has disrupted the regular operations of the College — and has moved the 60th Commencement ceremony into a virtual ceremony, supported by Pittsfield Community Television.
It definitely feels like all of the hours and hard work that I put in have led to this great accomplishment" Denise says when asked about how she feels being named Valedictorian. "It was definitely a long road to get to College and to then have it end at BCC — it really feels wonderful."
Denise admits she didn't feel like she did well in high school. If it weren't for sports and athletics, she might've skipped out on graduating from high school altogether. After high school, this Mt. Everett high school graduate, who grew up in Alford, ended up going to cosmetology school for a while before she got married and raised her four children in a house she and her husband built in South Egremont.
"I didn't feel like college was in the cards for me," Denise admits, "It wasn't until my kids grew up that I felt like something was missing. I thought a little bit about going to school and there was no doubt that when I entered the early childhood field, I found my passion."
Denise took up a part-time substitute position at Southern Berkshire Childcare program before being asked to come on full-time to teach pre-school. "They wanted a short-term substitute, which I agreed to do, and then they offered it to be full-time — and at first I said no — but the closer I got to my time of ending my work there, I really began to recognize what I was feeling inside, that I was going to really miss the work I had been doing. So I took the full-time position — and I remember walking back to my classroom and taking a deep breathe thinking 'what did I just do?'"
But Denise had found her passion, and she started taking classes as early as 2008 at BCC to earn a number of early childhood credentials to continue to excel in her early childhood career. At 52 years old, she was scared of going back to college, worrying that she would be old enough to be her classmates' mother. She found the ECE cohort in 2017 — which is a two-year program where students take the same classes and schedule together to earn their associate in science degree in early childhood education.
"The ECE cohort model was a perfect fit because I was able to keep my full-time job and still earn my degree. Typically, you only take one class at a time — often on Thursday evenings, for about four hours an evening," Denise said, adding, "With the cohort model, you're with the same group of students and you really begin to build a family together, who support and push one another, and it makes going to college so much easier — knowing you're all in this together."
At the beginning of her times as a member of the ECE cohort, Denise felt like she not only saw herself become more confident — but she saw the confidence of her cohort peers grow over time as well. She attributes a lot of this to two of her favorite faculty — Patricia Kay and Barbara Kotelnicki, who Denise says "are really as invested in my education as I was."
Through her time at BCC, Denise was also invited to speak at a Hearts of the Fathers (Hof) conference in Africa. "It was an education conference for teachers, administrators, and department heads in Ghana," Denise says, adding "I presented two PowerPoints. One was on my preschool curriculum and the other was on Special Education. I also spent some time at the HOF orphanage where I did some assessments of the children there. I viewed the trip as a cultural exchange."
After graduating, Denise plans on transferring to MCLA to earn her degree in Interdisciplinary Studies with a focus on children, families and society. "I really love the classroom," Denise adds, "I may never leave the classroom. I will also certainly stay in early childhood education."
Denise's advice for others is simple, she says "You're never too old to start to get a College education. It's not going to be easy, but it's not impossible. You have to push fear aside and put one step in front of the other — and never look back."
She adds, "I remember after my first cohort class ended walking out and thinking to myself, 'you know what, I can do this!'"
The class of 2020 will have their virtual commencement on PCTV on May 29 at 4:30 p.m. and be invited to walk with the class of 2021 after this pandemic is over. Denise does plan to walk across the stage at Tanglewood in 2021 with the rest of her ECE cohort — who will be the first class to graduate through the new ECE cohort model.