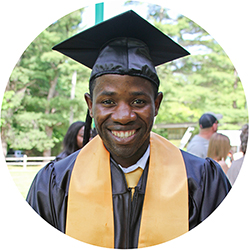 Student Spotlight
Edson Chipalo
Human Services
my

Future

BCC student Edson Chipalo has an unwavering determination to succeed.

Originally from Zambia, Chipalo grew up in a village without electricity or running water. Orphaned after his parents died when he was a young child, he lived with his grandparents who are subsistence farmers.

His childhood in Zambia was very difficult and he was often depressed. "My childhood was filled with sorrow. I was a despondent child and I did not think that I would ever have a better future. If I could count my fallen tears — they could fill an ocean. If my heart had a window — you could see all my pain and scars," he said.

Chipalo eventually left Zambia and served as a volunteer/teaching assistant — working with children with disabilities in various locations throughout the world including Zambia, South Africa, England, Scotland and the United States.

Today, all of those experiences fuel his drive and passion to live a better life. "My motivation and desire to make my dreams come true is like a burning flame that not even the fire brigades can extinguish," said Chipalo.

"People thought that I'd never go anywhere because I was an orphan, but I know that's not the case. I know I can succeed as long as I work hard and be good to people around me," he said with an infectious smile.

Chipalo, 26, came to BCC in the fall of 2013. The Human Services major who is the first in his family to go to college is a highly disciplined student — maintaining a 4.0 GPA. This has helped him to garner a scholarship from New World Fund.

"When it's time for school, it's time for school," said Chipalo. "The professors want you to succeed. I appreciate them all very much."

Chipalo is an active participant in numerous student organizations including Phi Theta Kappa. He serves as Student Trustee on BCC's Board of Trustees and is team captain of BCC's intramural Cross Country Team. He is one of BCC's Student Ambassadors and also serves on the BCC Financial Committee.
Every tear that dropped from my eyes gives me strength to work hard so that the horrendous past doesn't replicate in my future.
A resident of Pittsfield, Chipalo speaks 12 languages and enjoys singing gospel music in his church choir. He plans to graduate from BCC in spring 2015 and eventually wants to go to law school.