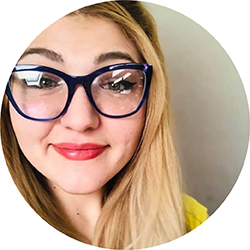 Student Spotlight
Elena Dichiara
Criminal Justice
my

mission

Elena Dichiara is a psychology and criminal justice major who transferred to BCC from the Community College of Rhode Island. Life in Providence, RI had become tough with bills piling up, wages stagnant, and gun violence on the rise. With two young children in tow, she and her children ended up in a homeless shelter. The family car broke down forcing her husband out of work, which ultimately led to a loss of childcare funding. She and her husband decided it was time for a bold move. They packed up and settled in Williamstown, MA for its reputable public schools and safe atmosphere. 

Elena wanted to continue her community college path, and BCC was the logical, affordable choice.
I was on a mission — I took every class that interested me.
But, as it turned out, what was outside the classroom was even more appealing. 
"I didn't know anybody here. I had no friends. One day, I just walked into the Student Government Association office and joined," says Elena, who had never been a member of any club before.
She still makes time to participate in SGA activities, despite sometimes working long hours at Berkshire Family and Individual Resources (BFAIR), an organization in North Adams committed to improving the lives of people with disabilities. She and her husband have also recently taken in her husband's 16-year-old sister, adding to her daily responsibilities. But Elena is undaunted, determined to achieve her dream of becoming a criminal profiler for the FBI. She has applied to Anna Maria College and plans to apply to Williams College and John Jay College of Criminal Justice as well. 
Elena grew up in an abusive household and is no stranger to facing adversity, but she now realizes it's a critical part of her identity and, ultimately, her success.
The past has made me who I am. I use to hold such shame, but now I talk of all I have survived freely. It is what has given me the drive I need to succeed in making this world a better place.
Since joining BCC, Elena has become a member of Phi Theta Kappa, the high honors society. She is also enrolled in the honors program, an active member in the college senate, and part of the commencement team for this year's graduating class. 
With all her responsibilities — family, work, and school — Elena realizes it may take some time to reach her goals, but she's willing to do what it takes.
A lot of young moms sacrifice so much of themselves for their children, but it's important to remember your kids will grow up, whether you have been working towards your goals or not. Keep going! Eventually, the late nights will pay off."