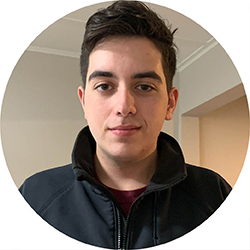 Student Spotlight
Ethan Trautman
Liberal Arts
my

dual enrollment

At an age when most of his peers have recently finished high school or perhaps just started college, Ethan Trautman has not only graduated from BCC — he has done so as valedictorian. The 18-year-old is the youngest valedictorian ever to matriculate from BCC.

The honor came as a bit of a surprise for Ethan, who didn't think he was eligible because he graduated in the summer. "I got the email with the news and had to look at it three times," he laughs.

Ethan started taking dual enrollment classes as a 15-year-old student at Columbia High School in East Greenbush, New York. "I was scared to start college classes. I was unsure whether I was cut out for that kind of thing," he recalls. But with the support of family, friends and teachers, Ethan acclimated quickly. He particularly credits his twin brother Gavin (also a BCC graduate) and his academic advisor, Lyndsay Isham-Morton, with making the transition easier. "Once I started picking it up and learning, it felt right," he says.

Unlike high school, which Ethan found somewhat academically unchallenging and limited in scope, community college opened doors to a plethora of options. "I took liberal arts classes and got to learn a little bit about everything. I could study what I wanted to study and learn how to learn," he says. "I could take literature, chemistry, all sorts of stuff. It was really stimulating and kept me busy — and I got to learn on my own terms, which made it so much better."

As a dual enrollment student, Ethan particularly enjoyed having the freedom to choose the classes he wanted to take, right away.
No one was picking classes for me. At BCC, you really can take whatever you want," he says.
Compared to a traditional four-year college or university, where "you might spend $30,000-$40,000 before you decide what you want to do," Ethan says, he enjoyed exploring a variety of academic areas without worrying about the cost. "I felt like I had free range."
Of all the interesting classes Ethan took at BCC, Intro to the Novel was his favorite – as was the English professor who taught the class.
Don't tell the other professors, because they're all great, but my favorite was Charles Park. He picked really good books that made you think about the world, and then you talked about them with other people. It didn't even feel like a class – it felt like you were talking to a friend about books."
Park chose contemporary literature and made it relevant, encouraging discussion of various interpretations, Ethan says. The class read books such as Douglas Coupland's Girlfriend in a Coma and Ian McEwan's Atonement.
Ethan says earning a liberal arts degree was a critical component in figuring out his career plan: nursing. "Studying liberal arts makes you think about the world and what you want to do in it," he says. "When I found my way into nursing, I was so impressed with the BCC program." He finds a big advantage in the fact the BCC is so closely connected to Berkshire Medical Center (BMC), allowing students to form lasting relationships with nursing faculty and staff.
The BCC nursing program has prepared me with adequate clinical experience and personalized education. A lot of nursing schools don't give you that. I'm glad I'm in a place that fosters learning so personally."
As for future plans, BMC is definitely in the picture. Completing his clinical credits at the hospital left a lasting impression on Ethan. "Everyone was so nice in the unit I worked in. It was a great work environment," he says. "I want to start my career there as a nurse and give back to the community."
But that's not all Ethan has up his sleeve. Having completed 90 of 120 credit hours in the Registered Nurse to Bachelor of Science in Nursing (RN to BSN) Program, made possible by an articulation agreement between BCC and UMass Amherst, he plans to take the remaining 30 credits online to complete his bachelor degree. "That seems like the most sensible path and one I would enjoy," he says.
As for being valedictorian, Ethan is most excited at the prospect of speaking at commencement. "I've always wanted to talk to everyone at once, so I get the chance to do that. It's a cool honor to have," he says, divulging that his speech is about how remarkably far his fellow students have gotten, despite their circumstances. "Community college is hard. It's hard to take chances," he says.
He also plans to talk about how being a dual-enrolled student was life-changing for him, and how it could be the same kind of opportunity for so many others. "By getting the word out to high schools, offering free credits and encouraging students to consider community colleges, BCC is going to help a lot of kids in the future," Ethan says. "I'm passionate about it because it made me who I am. When kids stay local, learn what they want to do and get a good foundation from BCC in high school, it helps our community grow. That's the one big thing I want to convey as valedictorian."
It isn't all academics for Ethan, who enjoys playing and watching hockey, gathering friends and family for board games and unplugging from the digital world – "things that help you bond with others or just spend time with people you enjoy being around," he says.
Ethan credits that bond with family, as well as the welcoming environment at BCC, as the key to his success as valedictorian.
My parents always told me to try my best. I got good grades because I took classes I wanted to take," he says. "I loved my whole experience – I wouldn't change a thing."