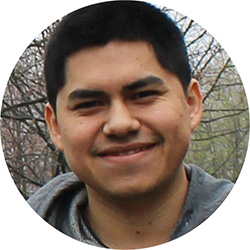 Student Spotlight
Flavio Olazabal
Business Administration
my

decision

Flavio Olazabal, who started at BCC in 2015, began his educational aspirations as an Engineering major and then switched half way through to pursue his associate's degree in business administration – and is excited to be graduating in May, 2019. He has found a tremendous amount of success as a student at the College.

He is the winner of the 29 Who Shine award for 2019, which highlights the accomplishments of one student from each of the 29 public higher education colleges across the Commonwealth.

He has also been accepted into the Isenberg School of Management to pursue his Bachelor's degree — which is considered the #1 Undergraduate business school in the Northeast. His plans don't stop there — he's going to pursue his Master's degree online through UMASS thereafter.
After my bachelor's, hopefully I will be working. I would like to work anywhere — any company that is willing to hire me, please do. Whether here in Pittsfield, where my family is, or anywhere that will have me — I just want to find a good job in accounting.
Flavio attended Pittsfield High School and then began his education at Berkshire Community College. His mother always wanted him to go be a business major — but Flavio was interested in STEM through the efforts of the STEM Starter Academy on campus.
"One of the most fun and challenging courses here was the Pre-Calculus course I took with Traci Dundas — she's an amazing teacher," Flavio admits. "Before BCC, I didn't really like Math, but I liked how it was taught here — and I liked how Math is the same in every country."
Flavio's family originally is from the country of Peru but moved to Pittsfield. Flavio's first language is Spanish, and he says the guidance, mentorship and support from Eleanore Velez, the Coordinator of the Multicultural Center on campus, helped him succeed in overcoming language barriers on campus.
Flavio chose Eleanore to go to the state house with him as his mentor when he receives the 29 Who Shine award.
She was always so helpful for me. English is not my first language and so it was great to be able to talk to Eleanore in Spanish and get the support I needed.
When Flavio made the decision to switch majors from Engineering to Business, it was because his burgeoning respect for Math was changing in that he knew what forms of Math he was more interested in studying.
"Engineering was great, and I like Math — but to a certain point. In Engineering, Math keeps going, to infinity — and I wanted to focus on something different while still using my Math skills," Flavio says, "Which is why I chose to change to the Business major."
While a student on campus, Flavio was involved in the Multicultural Student Services Organization (MSSO), the Student Ambassador program, the TRIO program, and as a BCC Falcons soccer player through the Club Sports program on campus.
Flavio says the key to being successful on campus is to connect with your peers and to get involved in after class activities.
I came to BCC with a few friends but mostly the people here were new faces. It was great to be able to connect, to meet new people, to do homework together — all of that peer support really helps you.
His advice to future students or first year students is to take college more seriously, and to make sure you're having fun.
"Whether it's your courses or your assignments, just take it more seriously — and take more credits per semester too," Flavio says, "but make sure you enjoy the courses you are taking — and get to know your faculty — they will support you at BCC."