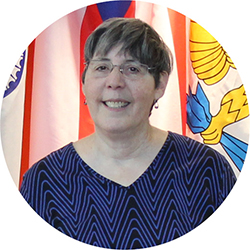 Student Spotlight
Jill Wollins
Community Health Worker
my

transformation

Jill Wollins had a successful career in research and development for the past 30 years and her Ph.D. in biomedical engineering.

She's also a current student at the College, coming back to school — and choosing BCC – because she wants to see herself as a community health worker in the Berkshires.

"Two summers ago, I was trying to think of what I could do as a second career," Jill said. "I had had a multi-year cancer journey that sort of ended my other career — and so I was trying to figure out how to use my biomedical skills in a new way — and the Community Health Worker certificate just jumped out at me."

Jill had seen the ads the College had posted after it launched its new Community Health Worker certificate and degree program and saw how aligned her previous healthcare related skillsets were with the increased demand in the Berkshires for workers who could help connect patients and caregivers to community resources.

Previously, Jill had been working in both hospitals and biopharmaceutical industries, often traveling all over the world working on medical devices and various biopharmaceutical projects.

"I worked for Eli Lilly training doctors on how to use implantable devices and helped them understand how to use some of the fancy pacemakers, "Jill said. "I've worked with start-ups and Fortune 500 companies, but my favorite work was in the hospitals, helping people."

Eventually though, Jill needed a change of pace, especially as family healthcare needs changed. She had to reimagine herself as more of a caregiver to her parents than to a person able to travel all over the globe.

"I was really fortunate at the time to see the Community Health Worker program here and be able to take both my life experiences and a lot of my skills and be able to redirect them into a career that — I have to say — I'm absolutely loving what I do."

Jill is currently working at Berkshire County Arc as a case manager and family support advocate. She is working with a variety of families in the community who have a loved one at home who have a serious physical or mental health issue or a developmental disability. She visits these families every month and provides supports, helps them advocate for themselves and helps with service navigation.
I like to help people, and this is much more direct way of helping people than my career has been thus far."
Jill has always been a very active volunteer as well, and she finds that in her current role as a family support advocate, a lot of the skills she's developed throughout her life volunteering have been really helpful in her current role. Whether it's her background learning Adult Sign Language, her experience volunteering with the Alzheimer's Association, or her 30 years of volunteering as a tutor for kids with all sort of learning challenges — Jill believes that volunteering has better equipped her for her community health work here in the Berkshires.
Jill came home to Massachusetts to help her mother take care of her father who had been diagnosed with early onset Alzheimer's. She utilizes these skills now when working with her clients in the field who have Down syndrome. "In the Down syndrome population, the likelihood of developing Alzheimer's if you reach the age of 50 is very high," Jill said. "So we have a number of people we are dealing with — and some on my caseload — who have both Down syndrome and Alzheimer's."
As a student here on campus, Jill says that being able to take on some service learning opportunities with one of her favorite faculty members and mentors, Kari Dupuis from the Human Services department, really helped her connect community resources to the community health field she was studying.
I'm a big fan of BCC. I've taken a lot of classes at most other community colleges across the state — but here at BCC, the instructors and the intergenerational populations are far superior to the other colleges across the Commonwealth.
Jill hopes that other students take more advantage of the wealth of supports that BCC offers. From tutoring to the computer labs or the opportunities to expand one's mind with a forum — she feels like most students who access the supports the College offers will have no problem succeeding.
Jill is considered a non-traditional student, or someone who is coming back to school and not an immediate graduate of high school, and she feels like more people should give community college a try — no matter your age or background.
"I can't stress enough that there are so many supports here for students to succeed. The question you have to ask yourself is what's realistic within your work/life balance?" Jill asks. "Try taking one or two classes at a time — or one online and one in person — or try something over the summer and see how it goes."
"Just have an open mind," Jill adds, "and you'll be successful here."