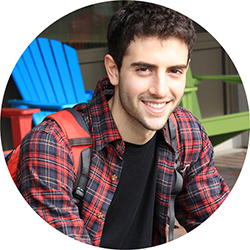 Student Spotlight
John Collingwood
Liberal Arts
my

Dedication

Becoming an Eagle Scout takes dedication. On average, approximately seven percent of Boy Scouts achieve the ranking, which typically happens in early adulthood.

Berkshire Community College (BCC) student John Collingwood, 18, earned the Eagle Scout rank in October of 2015 while being a full-time student and working part time.

Collingwood has always done well in school. He came to BCC in the fall of 2015 after graduating from Lenox High School where he participated in several sports teams as well as the robotics team in Elementary School. He chose BCC because of the small classes and flexibility of staying close to home. Another major factor in his decision that resonates with most students ─ cost.

As a member of BCC's STEM Starter Academy, a group for promising high school seniors interested in high-demand careers in a variety of STEM Fields, he started off studying Biotechnology, but later decided to switch his major. While being fully immersed in STEM related fields he realized that STEM was not his forte and switched to the broader field of Liberal Arts.

"I really like studying Liberal Arts. I can morph my learning experience however I want," he explained.

Despite carrying 13 credits, he works four nights a week at two local restaurants - Mazzeo's Ristorante in Pittsfield and Powder Hounds in Hancock. The money he makes goes directly toward his education.
"Being out of high school is very different. I'm getting real world experience. I have to be responsible."
Collingwood strives to balance his studies, jobs and scouting activities. "I deleted all of my social media because it's distracting and not a good use of my time."
He credits his responsible nature to his family as well as the Boy Scouts. "It's hard not to be influenced by the Boy Scouts. They're all very involved in the community," said Collingwood.
His strong familial ties are both local as well as in Italy. "My mother is always right," he says with a smile. "I mean it. She really is." He practices his Italian once a week via FaceTime with his cousin in Sicily and is considering visiting and working in her restaurant during the summer months.
While Collingwood is not sure what he wants to do long-term, he knows he will transfer. He said, "I'm thinking maybe an MBA. That seems like a good option for opening up a few doors (to different careers)."
Collingwood resides in Pittsfield with his parents, Concettina Collingwood (a BCC graduate, Class of 1980), owner of Hydro Health of Western Massachusetts, a home-based business that specializes in providing detoxification services such as Colon Hydrotherapy and Bruce Collingwood, Commissioner of Public Utilities for the City of Pittsfield.