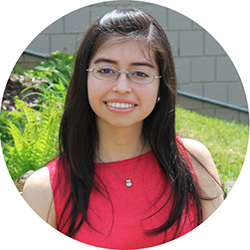 Student Spotlight
Laura Forero
Business Administration
my

Challenge

Laura Forero is at her best when she's learning. In addition to what she learned in her classes, the Class of 2016 Valedictorian gained a valuable lesson — hard work pays off.

A native of Colombia, Forero moved to Lee, Mass. with her parents when she was 13. Prior to moving to the Berkshires, she lived in Sydney, Australia and London, England. She started school in Lee the last few months of sixth grade. Friendships at the school had been formed and she struggled to be accepted. Things eventually got easier. She thrived academically and was encouraged by her teachers to take AP courses.

Fluent in English and Spanish, she graduated from Lee High School with High Honors in 2014. While at BCC, the Business Administration major was an active member of the Multicultural Student Services Organization and the Student Government Association. She is a member of Phi Theta Kappa, an honor society for two-year institutions.

Her parents, Efrain and Pilar, worked hard to give her the opportunity to attend college. "Earning an education is not something to be taken for granted," said Forero. "If I take a class, I need to do well."

Her early months at BCC were not without angst. Originally a Computer Science major, she did well in the classes, but struggled to see herself having a future in the field. She opted to switch to Business Administration and had to work extra hard to take summer and intersession classes to graduate in two years. One semester she took 19 credits.

"Taking 19 credits was a tough challenge. At times it felt like it simply wasn't possible. I just kept going,"
The more you fight for your goals, the stronger you get.
"My success was due to the support of my family, friends and the faculty and staff at BCC."
In 2015, she was a BCC Falconer Award recipient. At BCC's recent 42nd Awards Ceremony, she garnered the Edwin and Lola Jaffe Scholarship and the Thomas C. and Anne Everest Wojtkowski Scholarship.
In her spare time, the 21-year-old listens to and watches Korean music and television shows as a means to learn the language. For fun, and as a means of relieving stress, she enjoys nail art. She has experimented with all types of polishes and designs. "I take my nail hobby as a form of art. It's like painting, but on a small canvas. I have done tribal designs, ombre designs and even a puzzle design. All of them are freehand. I do not use stencils. I do them mostly on myself, but also on friends and family. I started when I was in high school. Some designs take up to an hour."
She aims to continue her family's tradition of travel and exploration and hopes to visit South Korea, Japan and China. "There's so much to see in the world," she explained. "Everyone is different and that's the beauty of humanity."
Forero will transfer to the University of Massachusetts' Isenberg School of Management in fall 2016. She aspires to earn a master's degree and to become a Certified Public Accountant.