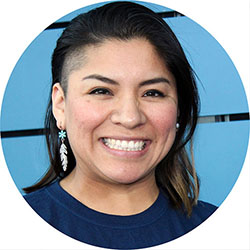 Student Spotlight
Liliana Atanacio
Engineering
my

Dream

Liliana Atanacio is a full-time, bilingual Engineering student here at the College who is graduating this June. She is also a mother of two, working full-time, from another country, acquired a new language and a new culture, and became a student and employee. She is a poster child for adapting and growing.

She also is the winner of the 29 Who Shine award, representing BCC as a student of achievement, perseverance, and inspirational determination.

Liliana was born in the state of México, which is located in the center of the country. There's a beautiful volcano there called "Xinantecatl," which loomed just outside of Liliana's window growing up. This volcano, now extinct, last erupted 10,500 years ago.

In reflecting on her home in Mexico, Liliana says "I miss my family, the tastes — the food. I started building all of my dreams there, one of which was to start a life here."

Liliana was always interested in science, partially, perhaps, because of the geological fascination sitting outside her window. She moved to the United States in 2008 and began taking English as a Second Language at the BCC South County Center a few years ago, and then when she understood the English language, she enrolled at BCC and eventually moved to Pittsfield.
"I like challenges," Liliana says about why she moved to the U.S. "And I feel like in this country, whatever you want, whatever you dream, you can achieve. That kind of hope drove me to go and work hard and succeed here."
Liliana enrolled and became interested in science; she wanted to be an engineer. "No one in my family does science," she explains. "My father is a hard worker, he's a small business owner, but I knew I wanted to do science — I don't know where it came from but I have always had an affinity for biology, chemistry and math."
During three years as a student on campus, Liliana got super involved in making connections and building relationships. She was a member of the Student Government, STEM Starter Academy, a peer-mentor, a Team Leader of the 1st Hackathon at BCC, and she has received outstanding achievement awards from the College in Mathematics and Science.
She was asked to bring a mentor with her to the statehouse to accept her 29 Who Shine award, and she chose Gary Bradway, a Professor of Physics, who is also her advisor. "Gary is a man who has really helped me stay on track and kept me focused. He is a man of few words, "Liliana explains, "but those few words say a lot. He's an awesome guy and I really admire him."
In addition to her academic accolades and student success, she has also received the Mount Holyoke College, Empower Woman Scholarship for a CS class and the "First Time Coders Award" Hackathon at Smith College in Northampton MA. She is affiliated with the American Nuclear Society, the Society of Women Engineers, and the SHPE Society of Hispanic Professional Engineers.
Liliana — on top of everything she has achieved as a student — is also committed to the community. She is a member of the Community Legal Aid board and she leads the College's MSSO-Multicultural Students Organization, which encourages diversity and tolerance among students through cultural activities. In the spring of 2015 she also sat on a committee of students advocating for tuition equity in MA Higher Education.
"Leading the MSSO and being a part of that is where I made the most connections," Liliana said. "I find a little motivation in all of the people in my life, and the MSSO became my found family of support who are there for me and push me to do better."
BCC is also where Liliana met her closest friends, like Jose Alfredo Cruz, a previous 29 Who Shine winner, and others who she helped and found support through to endure being a community college student.
"My friends, and this campus, taught me to never give up, keep trying," Liliana says. "One person can give you a word of advice that can change your life, and this has taught me to be more open, to share your story with others because people will realize, that's their story too!"
She continues reaffirming that her best advice to give is to be more open with your peers, and to ask question. "Now, people think I am great at Math, but actually, Math is so frustrating," she explains, as an Engineering major. "So when people hear that I struggle, it actually gives them hope, because they're struggling too, and we can work together, through the relationships we've built, to overcome these challenges together."
Liliana manages all of this - without access to traditional financial aid, and all the while raising her children and holding down a full-time job. She finds solutions to problems, she assists and mentors her peers, and she navigates the college experience with grace and ease because she is a strong, independent woman - who others admire for her courage and tenacity.
Liliana will be graduating this June and will be attending Western New England College to study Biomedical Engineering.