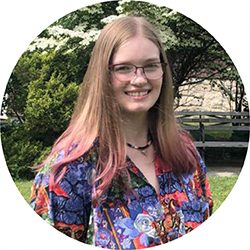 Student Spotlight
Marybelle Burns
Nursing
my

priority

If you were to guess that the valedictorian of BCC's most recent graduating class found her success by studying around the clock, you'd be wrong. "I worked hard in each class, not only to get good grades, but also to retain the material. I reached this achievement with consistent time management and prioritization," she says. "I prioritized quality sleep over late nights studying. Our minds and bodies need rest to have optimal performance.

Sounds like sage advice for someone planning a career in nursing. Marybelle, a 24-year-old with a freshly minted associate degree in nursing, hails from Tucson, Arizona. Five years ago, she moved to the Berkshires to care for her grandmother.

"It was an honor to spend time with her and care for her for the last few months of her life," she says. It was her second time experiencing hospice care for a family member, having tragically lost her mother to breast cancer when Marybelle was just 13 years old.
I think she would be proud if she could see me now," says Marybelle, who has been a live-in senior caregiver for clients throughout the Berkshires during her time at BCC.
When her grandmother passed away, Marybelle decided to stay in the Berkshires to work and to pursue a nursing degree. "I have always loved school, and knew I wanted to go to college eventually. That was not possible for me directly out of high school," she says. "I chose BCC because it is local and affordable, with a lively and welcoming campus." While she never envisioned herself becoming the valedictorian, her hard work paid off. She has already started working as a nurse apprentice at Berkshire Medical Center, but she has aspirations well beyond that. First, she plans to pass the licensing exam and transition into the role of a registered nurse. Next, she'll earn a bachelor of science degree in nursing, continuing her work as a hospital nurse for several years before specializing. "I can imagine going into homecare or hospice nursing. My ideal job is one with a supportive environment and the opportunity to positively impact my patients and their families," she says.
While Marybelle is busy pursuing her dreams, she didn't get there overnight. "When I was an independent 18-year-old, affording college was my first obstacle, since I didn't qualify for federal aid. I worked and saved up for a couple years, because I wanted to avoid any student loan debt," she says. Going to BCC part time while keeping a job to pay her tuition was a winning formula. After a few semesters, she started to earn scholarships, which helped ease the financial burden.
It's challenging to balance work and school, but that's commonplace at BCC because there are so many non-traditional students.
Marybelle credits BCC with giving her a great foundation for what lies ahead. "The time management and work ethic I developed there has prepared me for my career," she says. But it isn't all about academics for Marybelle, who is a strong believer in maintaining a work/life balance. At BCC, she joined the tennis club, explored the campus, and participated in numerous college events and forums.
Even though Marybelle is clearly a woman with a plan, she recognizes that not all students find their path so easily. "If you're unsure of your future plans for a career or for college, there is no need to go into massive amounts of debt to pay for school," she advises.
Community college is the perfect place to find inspiration or just to learn for the sake of learning.
That love of learning is something Marybelle plans to maintain for life. Thinking about her future plans, she predicts in five years she'll be "a content, confident, and caring registered nurse. I see travel, laughter, adventures, good food, and great friends."