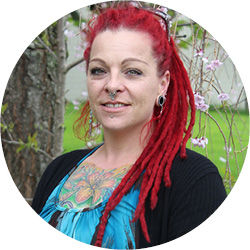 Student Spotlight
Soncere "Starr" Williams
Human Services
my

world

Soncere "Starr" Williams is the 2019 Valedictorian for the 59th Commencement exercises at Berkshire Community College, graduating with a perfect 4.0 GPA with her associate's degree in Human Services and an Addiction Recovery Assistant certificate.

"To me, this is amazing. For every person who ever told me I wasn't going to make it – it feels like, well, look at me now, I'm finishing with one of the highest honors that you could" Starr said, when thinking about what it means to be the Valedictorian of the College.

If you peak behind the curtain at Starr's background, you would be hard-pressed to imagine that she would ever stand where she's standing now. Starr is a woman who was raised in poverty, experienced trauma, PTSD, assault, chaos, and addiction, and the deep personal loss of her child.

Starr is a high-school dropout due in part to teen pregnancy, who climbed, fought and clawed her way back and pushed herself to her limits in her determination to succeed. She is a mentor and an example of grit and perseverance.
"When I look back on who I had been and what advice I would give to myself now, I think I'd say 'Hang in there little lady, you're life isn't over yet, in fact it hasn't even begun!'"
Starr has a Native American name (Soncere) that means "Morning Star," given to her by her father. Her mother wanted to name her Starr, and many of the clients she works with at Berkshire County ARC had a hard time pronouncing her name, so she uses Starr as her nickname.
Starr was raised in Arbor Hill, Albany before moving to the Berkshires in 2012 for her son, who is autistic, to receive better education. She had worked in retail management for 15 years where she says she felt stuck. She came to BCC, took her GED, and in the fall of 2016 started attending the College as a full-time student.
"BCC was very close, affordable and it had a great schedule, especially with its options for online classes."
Looking at Starr, with her tattoos, long red dreadlocks, piercings, and her outgoing, affable nature, you wouldn't assume that she was an extremely introverted, socially anxious person who avoided taking in-person classes on campus and instead relied on taking as many online courses as possible.
"I was definitely terrified to attend classes – my first two semesters I did all online classes to avoid people" Starr added. "It was definitely very stressful, but obviously I have overcome most of that in the years I've been here."
Starr knew from day one what her plan was for her higher-education experience at the College and beyond.
"I did all of the research, I knew where I was going to go for my Bachelor's and Master's degrees, I knew the trajectory for my area of study in Social Work," Starr said. "Because if I was going to throw myself into this college experience, I knew I couldn't make any mistakes or make any last minute decisions – because as a single mom, you have to know what you're doing."
Starr's trajectory hasn't really changed from that initial plan. She has been accepted into the Elms College program for Social Work for her Bachelor's, but has also been thinking about attending Harvard for her Master's instead of her original plan to attend Smith College.
"Stacy Evans has made me aware that I'm a lot smarter than I let on, and that I'm more intelligent than the poverty I came from – she thinks I'd be a potential student for a full-ride to Harvard and as she is an alum herself, she would be happy to write me a letter of recommendation."
Dr. Stacy Evans is a Professor of Sociology at the College who oversees the Berkshire Honors Scholar Program and had received her Master's degree from the Kennedy School of Government at Harvard.
After college, Starr wants to work in Macro Social Work, Public Policy and Public Administration. She feels that the real people who are impacted by public policy are not represented in a way where they can actually effect meaningful social change.
"I think initially I would want to do some sort of local council position and then work my way up through state and federal offices to drive some major changes before the end of my days," Starr said. "I'm interested in equality for everyone – whether they are LGBT, disabled, women, minorities – I believe institutions can and should work to take care of real people."
Starr attended BCC full-time, sometimes taking more than 15 credits per semester while working full-time and raising her two children as a single-mother, and "I never relapsed" Starr adds, in her effort to change the narrative around the stigma of addiction.
As a student at BCC, Starr felt that her core beliefs about social change were solidified and she felt more confident – especially as she crawled out of her shell and pushed herself to get engaged on campus.
Starr was initially terrified to take classes in person but found instead that BCC offered her a sense of community and support. Being able to help students through her work in the Student Engagement office is one of Starr's favorite memories.
Starr knew she was planning on being in leadership positions and apart of many different committees as part of her career choice – and so she pushed herself at BCC to be as engaged as possible to gain the experiences she needed to step out of her shell.
Starr has been a Student Ambassador; the VP of Communications for the PTK National Honors Society; a lead participant of the Human Services Club; a facilitator for the Disability Awareness forum; a volunteer for the Addiction Recovery Conference on campus; a student representative for the Parking committee and the BRTA study to increase ridership and provide more trips for students taking evening classes; she is a winner of the All State Academic Team; a Falconer award winner; and has received numerous BCC Foundation Scholarships.
Starr feels like being named the Valedictorian, and receiving a 4.0 GPA, has helped to break the cycle – she is the first in her family to graduate from College and she is setting an example for her two children.
"I think this all really lets folks know that, look, there really is a light at the end of the tunnel," Starr said, adding "especially when you look at all of the things I've been through in my life, being the Valedictorian is truly a surreal experience!"
In thinking about what advice she would like to offer current and future students, Starr said "Always remember to take care of yourself – above all – and don't kill yourself over grades and classes," adding:
"You are the most important thing in this world."