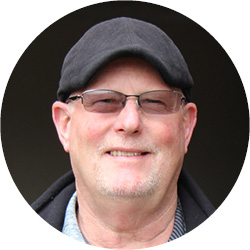 Student Spotlight
Steve Hunt
Criminal Justice
my

comeback

Steve Hunt graduated from Pittsfield High School in 1976 and attended BCC originally back in 1976-1978, but he didn't finish.

In May 2019, Steve will finally get the chance to walk across the stage at Tanglewood during Commencement and receive his much deserved associate's degree in Criminal Justice.
I don't know what I want to do when I grow up and retire in a few years at the age of 65, but I'm finally going to graduate from BCC — and keep going and get a bachelor's degree.
Back in the late 1970s, when Steve was a student at the College the first time, he was studying Physical Education and played two years of BCC Falcons baseball. "And, at the time, the Falcons soccer team were ranked third in the nation," Steve adds.
At the end of his first two years at the College — Steve realized he wasn't ready to go on to a four-year school.
"So, I remember sitting my parents down like it was yesterday and breaking their hearts by telling them I was going to get a job or go into the service," Steve said.
Steve ended up going into the Airforce in 1979 and spent four years in the service, and fondly recalls his experience being awesome. "This was just after Vietnam, so I was lucky there — but the service gave me a chance to see the world in a way I never could have imagined."
Steve got to see Labrador, Greenland, Greece, Italy, Germany and more. His favorite place to visit while in the service was Greece because his hotel was right across from the beach.
When he left the service in 1983, Steve came back to the Berkshires right as General Electric was experience massive layoffs in Pittsfield.
"So no one was hiring back then," Steve says, "So I decided to take the Civil Service exam and was hired by the Pittsfield Police department as a patrolman."
Steve works the overnight shift at the Police department and manages to find time to sleep after his classes at BCC and before his shift starts. For the last seven years, he's been with the the Anticrime Unit, which goes into areas around the City to interfere with gang and illegal activities.
But in three years and five months I'll be 65 and I'll have to retire, and I hope I'm ready to go because I love my job and the people I work with.
Steve attended classes on and off in the 1980s, but then had two sons and two daughters and took time off from school to raise them. He also coached his children in baseball, basketball, soccer and softball.
Five years ago he decided to give BCC another shot. "I took a lot of online classes," Steve says, "and I was scared to death. I didn't know if I could get it done."
Steve has gotten it done and in his last semester he's taking Applied Mathematics with Annette Guertin and U.S. History with Dr. Casey, and he thinks both faculty members are fantastic.
Steve's advice for students is simple — get it done. "Do it in two years, you're much more likely to succeed if you just persist and get it done while you're young."
Steve says he has no regrets about anything in his life — he's excited to finally be graduating and he's thrilled his 87 year old parents, his wife Kim, his four children and his two grandkids will be there to watch him accept his diploma.
I think the fact that I'm graduating now actually means more. Everyone keeps asking me: 'are you going to your graduation?' And I always say, 'hell yeah I'm going to graduation.'