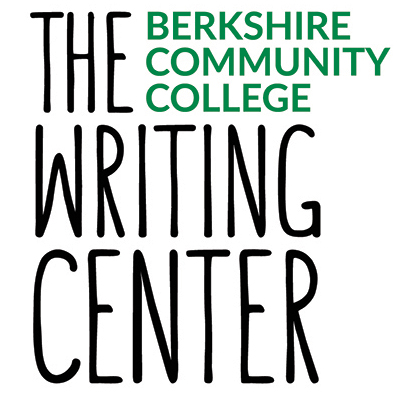 The Writing Center is on break for the summer. We will return this fall to help you with all of your writing for school and life.
Meanwhile, please help yourself to our writing resources and other tools as you keep writing over the summer.
Be safe. We can't wait to see you all again soon.
You can access Writing Center tools and resources here: https://moodle.berkshirecc.edu/course/view.php?id=14906
The Writing Center is free to all BCC students, and is staffed by trained writing consultants ready to help you with papers and any other writing, for any class, at any stage of the writing process.
The Writing Center provides appointments and drop-in hours. Stop by to find out what we're all about, have a coffee, meet our writing consultants, or work on a paper.
You can bring any piece of writing: term paper, lab report, English paper, application or scholarship essay, poetry, etc. – at any stage of the writing process: brainstorming, outlining, drafting, revising – for help with understanding the assignment, organization, feedback on a draft, interpreting instructor comments, and more.
We also have over a dozen free handouts available on everything from drafting a thesis statement to putting your sources in MLA or APA format.
Our Mission
The Writing Center is a respectful, inclusive space dedicated to supporting student writing across the curriculum. We believe writing facilitates learning and clarifies thinking. We approach writing as a process and encourage students to bring their writing at any stage. We provide appointments and scheduled drop-in hours, and are staffed by peer tutors who have undergone extensive training in writing center methods and practices. We do not edit or rewrite student papers, instead our tutors provide interactive one-on-one sessions in which they help students identify the strengths and weaknesses in their writing and take ownership of their own work.
Frequently Asked Questions