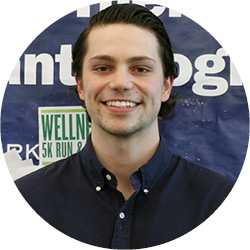 Alumni Spotlight
Brian Adams
Physical Therapist Assistant
my

preparation

Brian Adams, who is of no relation to the singer, graduated from BCC in May 2017 with an associate's degree in the Physical Therapist Assistant program

He was also diagnosed last year with Femoroacetabular impingement (FAI), a condition in which extra bone grows along one or both of the bones that form the hip joint — giving the bones an irregular shape.

"It's more of a chronic injury that can cause a lot of pain – I was dealing with that for years," Brian said, adding "So they have to shave off the lesion and there's a 4-6 month recovery time for that surgery – I'm trying to avoid a hip replacement at my age."

After BCC, Brian went on to MCLA and pursued a degree in Health Science with a concentration in Physical Therapy. He has also been accepted to Sage College to pursue his Doctorates degree in Physical Therapy.

With such a strong streak of academic success, it comes as a bit of a shock that at first, Brian didn't know what he wanted to do.
"I wasn't sure what I wanted to do after graduating from Taconic High School, so I decided to try BCC and get my core classes out of the way, BCC was convenient in its location and I could save a lot of money in the process – the idea of owing people money really stresses me out."
Brian's first semester he was a Liberal Arts major, but he says he switched when he learned about the PTA program and shadowed Physical Therapist Assistant at Berkshire Orthopedics for 20 hours – and he loved it so much he's never looked back.
"I decided to stick with the PTA program because the field is growing and you're practically guaranteed a job," Brian said. "I'm practicing now and the population range of patients is so diverse. I work with teenage athletes to 95 year old patients, it's incredible."
One of the reasons why Brian chose to pursue his degree with the BCC PTA program was because he had been reading about the 100% PTA licensure pass rates on the board exams and he felt confident in the program outcomes.
"That in itself is a perfect scenario, because you don't want to go through all of that schooling and then fail the national board exams," Brian added.
Through the BCC PTA program, Brian took structural anatomy courses and transitioned what he learned into practical scenarios. He was encouraged to apply book skills into real life situations, which he says really helped him understand how to use what he learned in the field.
"I preferred how this information was taught at BCC – especially by the awesome faculty in the program like Michele Darroch and Judy Gawron, who can answer any question you have, but their expectations are very high and they ensure their students are really well prepared after they graduate."
Brian graduated from BCC in four years, but did not walk at Commencement, instead he participated in the PTA Pinning which he felt, for him, was more important.

Brian's advice for future students is simple – enjoy your time here.

"It's easy to have a lot of fun here if you get involved in clubs and activities on campus, and take the necessary courses and don't overlook the importance of those courses – and always strive for excellence."