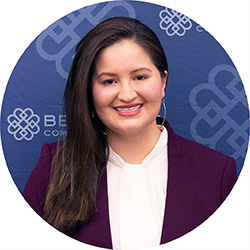 Alumni Spotlight
Catheryn Chacon
Business Administration
my

experience

Catheryn grew up in Colombia and came to the US when she was fifteen years old. After she graduated from Lee High School, she started at BCC.

"When I came to the US with my parents and my sister it was a challenge. The new culture and new language, new people and a lot of different things… But it was a good experience. When we're immigrants, we all look for a better life - for another outcome."

She graduated from BCC in 2012 with an Associate's in Business Administration and transferred to UMass to graduate with a Bachelor's in Accounting. Catheryn is now successfully working as an Accountant at Ernst and Young in Boston and also serves as the Governor appointed Alumni Trustee on BCC's Board of Trustees.
Without BCC I don't think I would be here in my shoes right now. BCC was just one step of the woman I am today, but it was one of the most important steps that I took towards my education. A lot of my coworkers went to Boston College or Boston University or any of the other colleges. But we all end up in the same position, we are at the same level. They always tell me how smart I was because I saved so much money and was able to stay at home while I went to school. There are so many benefits to starting your career at a community college that you might not realize right now, but once you start as a professional you will see.
While at BCC, Catheryn quickly became part of the Multicultural Student Service Organization (MSSO). As a student with immigration background, understanding what college looks like can be a challenge.
None of my parents went to college but they both knew at the back of their heads that this was something important, that this was something that would make it easier for us. I was the older sister and I had to go through it first to then help my younger sister. Having the MSSO and Eleanore Velez was such a support. We went on hikes together, Thanksgiving dinners, we sang together 'Happy Birthday' in different languages. It was like a family.
Even though Catheryn lives in Boston, her attachments to the Berkshires are still very strong and she visits her family and friends here as much as she can. In 2020, Catheryn was a recipient of the Berkshire County 40 Under Forty Award, being recognized as one of 40 talented professionals in the Berkshires who have shown their support for the region through leadership, community service, and a deep dedication to improving the quality of life for those living and working in the community.
In 2019, Catheryn was appointed by the Governor to become the next Alumni Trustee on BCC's Board of Trustees. She feels a strong urge to give back to BCC. When she was a student, she was reliant on scholarships and they enabled her to take the educational path she chose for herself. She remembers a special moment after receiving a scholarship at BCC: "We had dinner together with the donors and it was such an inspiring moment. That is why I try to give back as much as I can."
No surprise that Catheryn feels particularly strongly about the Eleanore Velez MSSO Scholarship, which supports students who are active members of the MSSO. But scholarships are not the only way that Catheryn is giving back to her alma mater. She is a regular guest at Alumni Association events, sharing her experience by serving as a guest speaker, and gives her role as the elected Alumni Trustee high priority.
Serving on the Board of Trustees is a great opportunity for me to give back to the college that gave me the tools to be who I am today. I thought that the perspective that I could add to the Board would be very valuable: as an alumna; as a multicultural student; as a Hispanic woman; as a younger person. It has been an amazing experience since the first meeting.