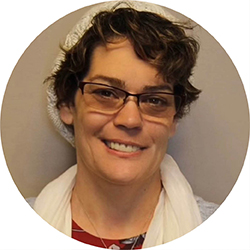 Alumni Spotlight
Kate Lauzon
Liberal Arts
my

drive

If there's one word to describe Kate Lauzon, it's driven. A 2020 graduate of Berkshire Community College, Kate has had rocky points in her life, but she's overcome adversity and is on a mission to succeed. "It's always been me that has had to pick up the pieces, and I have always worked hard for everything I have," she says. That includes her five years at BCC, which involved plenty of soul-searching and switching majors.

"I came to BCC like a little lost lamb, only knowing that I wanted to take the Environmental Science degree to transfer to UMass Amherst for Landscaping Contracting," recalls Kate, who grew up in the small central Massachusetts town of North Brookfield. "Honestly, BCC was supposed to be a jumping off point to another college, but life got in the way." After changing her major three times — from Environmental Science to Sociology to Liberal Arts — she finally found her niche. It was clear she was at BCC to stay.
Fortunately for me, my professors helped guide me through the ins and outs of being in school, the feelings and all the challenges I had to go through at home as well. BCC is where I really gained a sense of what community means, and I was able to transfer that into the greater Pittsfield community.
Now a commercial insurance agent with Cross Insurance in Pittsfield, Kate has come a long way since the 17-year gap between high school and college. She credits both Berkshire Business Professional Women (BBPW) and Dulye Leadership Experience (DLE) with contributing to her success, ultimately helping her land a successful job.
In September 2019, during her last year at BCC, Kate earned a BBPW scholarship. A couple months later, an anonymous member of the community gifted her a pass to the annual DLE conference, where she received intense instruction on how to build professional and leadership skills.
The scholarship included not only a year of free membership to BBPW, but also a mentor, Linda Dulye, the CEO and creator of DLE. Linda helped Kate write her resume and gain invaluable professional and life skills, preparing her for a corporate career. She is one of several mentors in Kate's life who have made a difference.
"I have a sponsor through Alcoholics Anonymous who literally guided me on how to be a useful human and take part in my life and my family's life, because I didn't know how to do that," she says. "Bob Zuber, my colleague at Cross Insurance, took a chance on me and guides me in the world of insurance on a daily basis." She also names several BCC professors who served as her mentors and who she is now proud to call friends, including Stacy Evans, Tom Tyning, Maura Delaney and June Tooley.
All of them have done one thing I will be eternally grateful for: They believed in me when I couldn't, when I was doubtful about my path.
After graduating from BCC, Kate started applying for jobs that matched her personality and her connections in the community. She found a great fit at Cross Insurance, where she specializes in writing insurance policies for farms, restaurants, contractors and Main Street businesses, a position for which her 25+ years in the food industry prepared her well. She's also a board member at BBPW.
Kate, a natural helper, readily offers advice to those like herself who might be struggling with what they want out of life and how they can get started by going to community college.
Start off in liberal arts or anything that seems appealing to you. Ask ALL the questions. Believe me, the BCC staff have the answers, and if they don't, they will try to find them for you," she says. "Have fun, spread out the hard classes, ask for help often, and offer to help others. You won't regret it."
These days, when not at the office, Kate can be found baking and cooking, often picking up one-day jobs for local businesses "just for the experience and adventure." In a decade or so, she sees herself owning another house, perhaps on the Florida coast. "I want to make enough money so I can live comfortably in retirement on the beach and set my kids up for success early in their lives," she says.
I have come to the conclusion I can do whatever I want and have fun doing it.