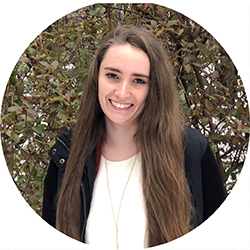 Alumni Spotlight
Leah Brooks
Early Childhood Education
my

pursuit

Even as a little girl, Leah knew she wanted to pursue a teaching career. It runs in the family: both her grandparents were teachers, and her uncle is a college professor. Born and raised in Becket, MA, Leah attended public schools in Lee. After completing a high school internship in Lee Elementary School, going to college and majoring in early childhood education seemed like the perfect fit – but not without its challenges.

As is common with high school students, Leah felt pressured. "I felt like I had to go to a four-year college, so I applied to Westfield State University, but I didn't get in." Crestfallen, she reevaluated her plans and applied to BCC, knowing she wanted a small-school setting with a strong early childhood education program, and in 2015 officially began the path to attaining a college degree.
I only took one class the first year because I struggle with anxiety," Leah says. Despite the slow start, she credits now-retired reading professor Heidi J. Sammon, who taught a pre-requisite English course, with boosting her confidence. "She made a big impact on me because she inspired me to push through and never give up.
Leah also praises the teaching style of Patricia Kay, associate professor of early childhood education, for her success. "Patty's classes weren't the traditional lecture style. It was like you were actually being the kid you were going to be teaching one day," Leah says. "She made it fun."
The small class size and the diverse student body at BCC resonates with Leah, who says her professors "got to know me on a personal level, which made it comforting and welcoming." She also fondly recalls the wisdom of a senior citizen in one of her classes. "She went through experiences and has this knowledge I don't have. She gave us an example of what it's essentially going to be like in the real world."
Leah broadened her real-world experience further by working at Building Blocks Early Education Center in Pittsfield for a summer while at BCC. After graduating in 2019, Leah transferred to Westfield State University, where she will graduate this spring with a BS degree in early childhood education. She plans to work in a public school system and eventually earn her master's degree in special education – something she never would have imagined just a few short years ago. Her advice for students considering a college career is twofold.
Find what you love and pursue it. Always be proud of yourself, no matter how big or small the accomplishment is.