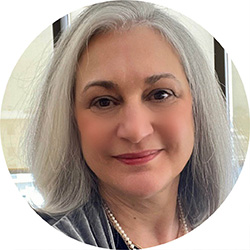 Alumni Spotlight
Maria Brodeur
Nursing
my

empathy

Some people seem born to help others. Maria Brodeur, who has worked as a nurse for 42 years, is one of them.

At just 15 years old, the Pittsfield native began volunteering at Berkshire Medical Center (BMC) in the medical records department.

"I always felt that I wanted to help people. I found myself to be very empathetic and compassionate," says Maria, who credits her mentor at BMC, Tina Huggins, with encouraging her to launch a career in nursing.

"She said, 'Maria, I see how you interact with patients. Why don't you consider going to nursing school?' Maria recalls. She thought about it, and in April of her senior year at Pittsfield High School, she decided to go for it. The high school recommended her for the Pittsfield Vocational School of Practical Nursing, and she was accepted. Just a year later, in 1980, she earned her licensed practical nurse (LPN) certificate. From there, her path was clear.
I got a job at BMC and worked there for 13 or 14 years, until in around 1988 I was speaking to a supervisor who suggested I enroll in BCC's registered nursing (RN) program. I was a young mom and I didn't know if I could pull it off, but BCC made it work.
She started the Associate Degree in Nursing (ADN) program with pre-requisite classes like math, which she calls "not her favorite subject," but she quickly found BCC faculty to be supportive and encouraging, and her schedule was flexible enough to work with her family and job responsibilities. When she completed her pre-reqs, she took the suggestion of then Coordinator of Tutorial Services Janie Pellish and began tutoring fellow ADN students.
It was the BCC ADN program that Maria credits with teaching her the skills she still uses today. "My instructors built a firm foundation in critical thinking skills. Think things through. Take a step, pause, breathe, and then you'll know exactly how to handle any situation," she says. "I've always used that format in who I am as a nurse, especially during the pandemic."
After graduating the ADN program in 1995, Maria was approached by the Pittsfield public school system to become a school nurse, but in order to do so, she needed a bachelor's degree. With typical determination, she enrolled at Elms College.
"I worked full-time and went to school on the weekends and evenings. I was lucky to have a lot of support from my parents and my husband, who would watch the kids and drive me to Chicopee during winter storms," she remembers. After graduating Elms in 1998, she enrolled at Anna Maria College to earn a parish nurse certificate. She also became a school nurse.
"I chose that career because my father was a paraprofessional in the school system, and it was something he always dreamed I would do. Also, working around my children's schedule allowed me to be flexible," Maria says. "I could be home with them, get their lunches made and pick them up. I was always a mom first, then a professional."
Today, Maria part of a team of case managers for Berkshire Medical Center, whose responsibilities include utilization review (the process of ensuring healthcare services are used appropriately and efficiently) and working with the multidisciplinary team to establish safe discharge planning for patients. Most recently, she was assigned to 3 West, the COVID-19 unit.
During COVID, Maria says, the job has been particularly challenging. "Patients and their families are in crisis. They are trying to find a smooth transition to the next level and a safe discharge plan, but catastrophic illness is so difficult," she says. "You just have to be flexible and support them and guide them along. You have to offer choices so that they are part of the whole process."
Despite the many tragedies Maria has witnessed, she also sees much joy. "When a patient gets discharged to rehab or to home, it's wonderful to see them leave. I really take my patients and their families to heart," she says. "Working on 3 West has shaped me to be a better person. It wove a tapestry in my heart, and it makes me happy that I became a nurse."
Now nearly 25 years after she began taking classes at BCC as a young mother, Maria remembers the relief she felt when she realized she could make it work. "I started small by taking math labs in the evening and English classes. It was so much fun," she says. "You meet people of all ages. It's not like a typical classroom — it's a bunch of adults interacting, learning, laughing, sharing. I was hooked."
A eucharistic minister at St. Joseph's Church in Pittsfield, Maria says her dream is to volunteer there after retirement. "My faith has carried me through so many situations in my life, both positive and negative," she says, including a serious bout with a rare complication of COVID-19 called acute myelitis, causing her to be hospitalized with severe back pain.
My experience will make me a better nurse and a better advocate for my patients and my families, because I've walked a mile in their shoes.
As a mother of three and stepmother of two grown children, and grandmother to seven, Maria lives with her husband of 30 years, Rob, and their rescue dog Yuki (they recently suffered the loss of their 13-year-old cat, Phoebe). During her COVID isolation, she taught herself how to quilt, making one quilt for each grandchild. She's now teaching herself how to knit, crochet and needlefelt. And, now that she can get outside again, she's continuing her passion for photography.
"I take pictures of the Milky Way and galaxies, which goes with my love of being in the forest and camping," says Maria. Rarely one to sit still, she also sings for Berkshires Hills Chorus, a female barbershop chapter of Sweet Adelines International.
She and Rob recently completed a bucket list they created when they got married: to see the entire United States, a feat that took three decades and ended in California. Now, they plan to travel the world. But for all she has accomplished in her fruitful life, she never forgets her roots.
I am grateful to BCC. They jumpstarted me to a 42-plus-year career in nursing. I started out as a young nurse not really knowing what the future would bring me, and now I'm nearing the end of my career. I am so proud and happy to be a nurse and to serve BMC and the Pittsfield community.