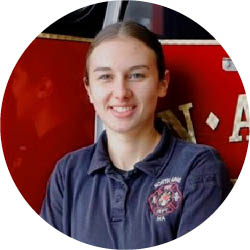 Alumni Spotlight
Morgan Goodell
Fire Science
my

Pivot

When Morgan Goodell was 16 years old, her dad, a volunteer in the Clarksburg Fire Department, brought her to work to show her what firefighters do. It was a pivotal moment.

"They were all geared up and practicing wall breaches. I remember thinking it was really cool, and I wanted to do it too," Morgan recalls. "I liked it, so I kept going. I began training every Wednesday night. The more I went, the more I liked it."

With the encouragement of the Clarksburg firefighters, along with "100% support" from her father, Morgan joined the department as a volunteer at age 18.

Born in Pennsylvania, Morgan has lived in the Berkshires since she was five. Once she developed an interest in becoming a firefighter, she set her sights on the Fire Science program at BCC, where she enrolled immediately after high school. In her last semester, she accepted a job with the North Adams Fire Department, where she started in July 2022 after graduating BCC — but not before passing the required civil service exam, which Morgan describes as "challenging, both physically and mentally."

The exam includes written and physical components. Morgan took the written part first, followed by the physical test a couple months later. She was prepared. "I like the physical stuff. I practiced ladders, hose drags, going thru mazes," she says. "It was hard, but I wanted the job, and that's what got me through it." She enrolled in three months of hands-on training at the Massachusetts Fire Academy, where she was one of three women in group of about 30 trainees.

Knowing she was entering a career not many women choose, Morgan sought out the guidance of others like her. "The people in my life supported me, but I also started following female firefighters on Instagram and other influencers," she says. "I watched training sessions and gym workouts. That kind of influence helps us. Just getting the word out, familiarizing females with choosing this career, will help."

With an intense focus on her training, Morgan didn't initially realize that she was making local history as the first female firefighter in North Adams, and at age 22, she's still the only female on the force. "It's a male-dominated job, but I'm on equal footing with men. I'm passionate about what I do, and it's still the same job no matter who's doing it," she says. "I have to prove myself the way any firefighter would. The guys know that."

Despite her pragmatic attitude, Morgan acknowledges that she's a positive influence on school-aged girls who might choose a career like hers one day. "I didn't realize the impact I'd have on the North Adams community until I started working there," she says, noting that she has been approached by many young girls on school trips to the station. "They'll come up to me and hug me."

Recently, Morgan was on a residential fire alarm call when a little girl spotted her.
She was pointing at me, and she told my lieutenant that she wanted to be a firefighter like me. It put things in perspective — that I can be a role model just by doing my job.
Currently, Morgan works two 24-hour shifts per week, which entails working 7 a.m. to 7 a.m. followed by at least one day off. "You sleep and eat when you can," she says. While every day is different, she and her fellow firefighters follow a general routine of doing chores, checking trucks, making sure all tools are in the right place and working correctly, and carefully inspecting equipment such as self-contained breathing apparatus (SCBA) packs. They regularly go on residential smoke detector inspections and placements.
And, of course, they prepare for a variety of fire scenarios.
"Between calls we train and practice skills. We'll go out and throw ladders," says Morgan, who enjoys the physical training the job demands. "I have faith in my training and my crew to handle whatever situations we face. That's what the training is there for, and that's why we practice. So, in serious and intense moments, we know exactly what to do."
Morgan credits BCC with helping her prepare for the job by teaching her the scientific and technical aspects of firefighting. "The experience was very beneficial. I had passionate instructors who were always there for me," she says, recalling in particular Charles Garrity, an adjunct faculty member in the Fire Science department. "He made it fun to learn about what I was interested in. Plus, I could ask him any question, any time, by just putting in a call or an email."
To those thinking of becoming a firefighter, especially women, Morgan urges them to "do it — just do it! There's nothing stopping you if you're passionate about it." Even when she was having moments of self-doubt about getting through the rigors of the fire academy, she says, she focused on her passion and pushed ahead. "I wanted it, so I committed to it and I did it!"
Not surprisingly, Morgan enjoys physical activity in her spare time. Her hobbies include hiking, camping, fishing, hunting, campfires — "pretty much anything outside" — and working out at gym. She also enjoys spending time with her younger sister and brother. "Family is very important to me. They have always been very supportive of my journey."