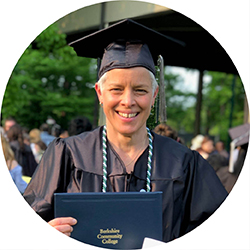 Alumni Spotlight
Nina Nunes
Physical Therapist Assistant
my

ability

Nina Nunes, no stranger to higher education, has earned two associate degrees, a bachelor's degree and a master's degree. But of all those degrees, "it was the Physical Therapist Assistant (PTA) associate degree from BCC that changed my life the most," she says. "The intimate support you get from the instructors and from the college itself is invaluable."

It all started in eastern Massachusetts, where Nina spent her early childhood before moving to central Florida. There, she graduated high school and earned her undergraduate degree from the University of Central Florida, where she played Division I basketball on a scholarship. Upon graduation, she moved back to Massachusetts and began working for a non-profit organization.

If I wanted to progress there, I needed a master's degree, so I did that," Nina says, completing her master's from Springfield College while working full-time. She was confident she was on an upward career path — until one day she had a sudden realization she needed a change. "I was sitting in a meeting in the conference room, looking at my colleagues who were 10, 20, 30 years older than me, and I suddenly thought: This is not me. This is not how I want to grow."

In her early thirties, Nina left that job to explore other opportunities. With her athletic background, she was especially interested in outdoor recreation and physical fitness. "I landed at BCC because they had a track to become a personal trainer," she says. Eventually certified as a personal trainer, Nina took it a step further. "I decided to take the leap and go back full time for an associate degree in physical fitness."

But even after earning that degree, Nina needed more. "I wanted more information about the body. I wanted more understanding about how the body heals, how the body works," she says. "The Physical Therapist Assistant program answered that for me. It was the next step. I saw that I could bridge my values of health and wellbeing to a career that promoted and espoused those very same values."

Nina graduated in 2019 with her Physical Therapist Assistant associate degree and began working at Manchester Physical Therapy in Vermont. She is now a PTA at Southern Vermont Medical Center in Bennington, where she sees both inpatient and outpatient clients. A typical day might involve seeing a patient with COVID to help them breathe better and maintain oxygen saturation; helping a person after a total knee replacement; or working with a teenager who has sprained an ankle.
The link to all the jobs I've had is people — my ability to connect with people, dealing with the challenges of people and navigating those challenges. That's where I find a great deal of enjoyment," Nina says.
Getting to where she is now has been a journey, Nina says, but she credits BCC with giving her the foundation to find a career she loves. "BCC is just so accessible. The support of the instructors as you go through a very challenging program is invaluable," she says, naming PTA Coordinator Michele Darroch and PTA Professor Judy Gawron as highly influential in her success. "I can't say enough about the investment in their students," she says. "They give you the skills you need to know in the field, and it isn't just black and white. We have to learn to be reflective on the care we're giving to be sure it's the best care for that particular patient."
Having access to "all that knowledge" was Nina's favorite part about attending BCC, along with the collegial learning atmosphere. "In the PTA program, you really connect with your fellow students. It was a team effort, just like when I played team sports," she says.
The Physical Therapist Assistant program at BCC enrolls up to 20 students each fall, who take rigorous courses including physiology, structural anatomy, rehab neurology and clinical education. Program graduates are eligible to take the national examination to be licensed as a Physical Therapist Assistant. The class of 2021 had a 100% first-time pass rate for the licensure exam.
It's such a rich field. Wherever you want to take it is really up to you," Nina says. "But even if I didn't have a job, I'm rich in knowledge from the BCC program. It's about understanding the value of good health — you have to earn it.
Where Nina's future will take her is something even she is unsure of, but she has done some teaching at BCC and would enjoy doing more. For the foreseeable future, she plans to stay in the field of physical therapy and hopes to effect change. "I'd love to see a more dynamic culture. When people go into inpatient or outpatient therapy, they often expect you to fix them, as the professional," she says. "I want more alignment with the people I'm working with. It's a joint goal. I'm just one of the tools to get you to where you want to be."