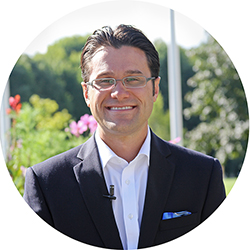 Alumni Spotlight
Peter Zanconato
Business Administration
my

Success

You could say that Peter Zanconato has Berkshire Community College in his blood. Not only is he a BCC graduate, his sister and brother are, too. His mother, Mary, works at the institution as does his sister, Ashlee, who currently serves as an adjunct Culinary Arts instructor.

Despite the familial ties to BCC, his passion for the college extends to the value of the education he received during his two years studying Business Administration.

"With any college experience, you get out of it what you put into it. I had a great education and experience and incurred very little debt," said Zanconato.

He transferred to UMass Amherst's Isenberg School of Management and earned a bachelor's degree in Finance in 2005. He later moved to Boston to pursue a career with Teradyne Inc., a multi-billion dollar global test equipment manufacturer as part of their Financial Development program.

Upon graduating from the program, he joined Enernoc Inc., a Boston-based energy management startup company. As an early member of the company, he joined Enernoc's Finance team supporting field sales. Two years later, he was given a management role with the company supporting global revenue.
During his tenure, the team at Enernoc grew the company from $60 million in revenue to $280 million in less than four years.
He was offered the opportunity through a former colleague to join the Merck Group, a global leader in pharmaceutical and chemical production based in Darmstadt, Germany. As a member of their global finance team, he partnered with more than 60 countries to understand the financial condition of the business. With 40,000 employees worldwide and over $10 billion in revenue, Merck provided Zanconato the opportunity to see the world and learn more about international business.
"Traveling the world was really interesting and I learned a lot during this time – both about business and myself. Long flights to unfamiliar places provided an opportunity to reflect on my past and think about my future. I realized that I found helping small businesses grow to their potential was my sweet spot. I wanted to play a stronger role in the day-to-day decision making and operations of a small business," said Zanconato.
He subsequently joined the Insulet Corporation, a small medical device company based in greater Boston that is changing the world of diabetes and drug delivery. He started the company's Sales Operations function and was later promoted to finance manager supporting Commercial Operations.
"I am driven by success in my personal life and business," said Zanconato. "I want to look back in 5, 10, 15, 20 years and see the results of my work. I know I can't do this alone and believe the students of today will join me. Therefore, I invest in students. From mentoring to financial assistance, I realize my aspirations will not be achievable without the help of today's students."
His commitment and desire to give back to students extends to BCC. In late 2013, he created the "Achieving Your Dreams" scholarship fund that will commit $25,000 to students over the next ten years.
Adding to his already busy schedule, he has begun delving into real estate and keeps busy by acquiring and rehabbing properties in the greater Boston area. "It's my weekend job," he says with a laugh.
He still makes time to visit BCC. In 2014, he was the headline speaker at Fall Orientation. His presentation was appropriately titled – "Education is the key to Prosperity."
Attending college is the first step to achieving prosperity.
Zanconato currently resides in Rockport, MA, 40 miles north of Boston and on the Atlantic Ocean. His ultimate goal is to run a company. In his free time, he enjoys spending time with his family and girlfriend, playing golf and watching the waves roll in.