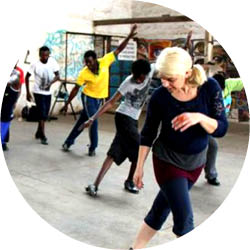 Alumni Spotlight
Stefanie Weber
Environmental Science
my

Dance

Stefanie Weber '93 is an action-based artist who specializes in dance, movement and performance. She presents "We Danced for Rain," a dance forum/demo, on Thursday, Sept. 28, 2023 from 2:30 to 3:15 p.m. in Koussevitzky 111, followed by a tap dance workshop in the Robert Boland Theatre from 3:30 to 4:30 p.m.

Even though Stefanie Weber grew up in Pittsfield, a self-proclaimed "GE kid," she never imagined she'd live here full time to pursue her art. Today, she is an action-based artist who specializes in dance, movement and performance, having worked with famed Berkshire institutions such as Jacob's Pillow, Barrington Stage Company, Berkshire Opera Company and others. She frequently collaborates with local and international artists.
Understanding Stefanie's success requires looking back at the many challenges she has faced. The struggles began with a diagnosis of endometriosis at a young age.
"I've had a lot of chronic pain, which I began dealing with from when I was about eight years old," says Stefanie, who graduated from Pittsfield High School in 1991.
"Making decisions for my life was hard for me then. I wasn't sure if I wanted to go to college because what I really wanted was to dance on Broadway or be a part of a similar kind of production," she says. "I knew my body wouldn't be able to do it, so I asked myself what's the next best thing? I guess I go to college? There also was a lot of external pressure to do that. But my heart was really never in it."
With half-hearted plans to earn a bachelor's degree from Elms College, she attended classes there for a year, but transferred to BCC when her father lost his job at GE and her financial aid wouldn't cover enough of the expenses.
"I enrolled in the Environmental Science program and really didn't have any idea what was going to happen, how long I would be here, or what I was going to do with it," Stefanie recalls. "It was a really tough time."
A turning point came when Stefanie discovered a love for nature. "That was like my medicine," she says. She decided to study environmental sciences because BCC had a program that looked interesting — and ended up staying a year, followed by a BCC-sponsored summer program in Tucson, Arizona. It was a class called Desert Ecosystems, and Stefanie loved it.
"It [was] mythical, magical there in the Sonoran desert. We went in depth into the plants, animals and indigenous culture," she recalls. "It was a very special opportunity that made massive impressions."
Stefanie reflects on how her life outlook changed when she attended BCC.
I became friends with non-traditional students. That was another part of what expanded me. I studied with folks who were older, and surprisingly, I felt connected to them. They had totally different lives than me. Some had children or had former interesting careers. That set a precedent for me, it opened my world up to 'oh, I don't have to only be friends with people my age.'
Stefanie names former professor George Hamilton, founder of the Environmental and Life Sciences Program at BCC, as her favorite, most influential teacher.
"He talked about things that were happening in the environmental sciences and in the world in a way that made you feel like you were a part of it. I think one of the first things he might have even written on the board was the difference between a part of and apart from," she recalls. "Everything he did was how much you are a part of and not apart from. That made a huge impact on me."
Eventually, Stefanie got a scholarship to transfer to UMass Amherst, where she majored in environmental sciences with a minor in toxicology. She also continued dancing, taking classes at Smith College as part of the Five College Consortium and joining several dance companies over the years.
After graduation, she joined an AmeriCorps program in New Hampshire, where she performed 10 months of service in a 10,000-acre state forest. Though her community service project was dance-related, she remained intrigued by ecosystems and the human impact on the environment."I was trying to develop this idea of combining the study and awareness of nature with dance and movement," Stefanie says.
The next few years were an odyssey as she worked on that concept and more.
After leaving AmeriCorps, she joined an environmental education program in Tennessee, again joining dance education with nature immersion. She left Tennessee to pursue other interests and found herself engrossed in the study of rhythm tap dance at Indiana University, performing with the Bloomington Playwrights Project, auditioning for Jacob's Pillow in Iowa City and getting accepted into the jazz traditions program as a scholarship student. She moved back to the Berkshires, studying under many legends of the dance including her mentor-to-be Dianne Walker.
"That started me on the journey of jazz tap and rhythm tap, and I got inducted into this kind of tap dance family and ancestry. It was totally unpredictable," says Stefanie, who has worked artistically out of numerous studio spaces in the Berkshires over the years, recently moving to Pittsfield's Clock Tower artists' collective space. "It was that dormant dream coming to life, to be choreographing and making art and making dance professionally in collaboration with others."
But, Stefanie says, she was still struggling with pain and health issues. She went deeper into studying various stylistic, folkloric and somatic movement, bodywork, and dance techniques, searching for relief and answers and finding how they relate to chronic pain, mobility or disability.
"I created an evening-length eco-feminist performance piece entitled 'Indicator Species' over the course of about two years around my experience with endometriosis. It was something I knew I had to do," she says.
Today, Stefanie works with people teaching movement and dance, and helping them befriend their bodies. She specializes in working with those who experience pain or identify as disabled. "I tend to gravitate towards people who have limited mobility or need a wider net cast for learning movement," she says, noting her own experience of learning differently and mobility issues from chronic pain. She leads small-group classes and private sessions in her Pittsfield studio, at people's homes and through her work with Community Access to the Arts and Movement Matters.
"My world is pretty much about making movement, dance and art accessible to people who want it or need it, whether that's through facilitating, performing or producing," she says.
Her world is a busy one, full of projects both locally and abroad. "They Dance For Rain," for example, is a dance-making project that works with arts-for-social-change organizations and individual artists in Nairobi, Kenya. Stefanie brings tap shoes and mentors, shares her skills with others and is a major player in the development of tap dance in Kenya. Other projects incorporate audio, film and photography with dance, sometimes in unexpected places like parking garages, alleyways or abandoned industrial lots.
Still, her deep interest in working with those who suffer from chronic pain or injury, as well as those with disabilities, difficult diagnoses, learning differences or brain injuries, continues to inspire her curiosity and creativity. That passion is particularly poignant in Stefanie's personal life. She recently moved in with her father, who has Alzheimer's disease and traumatic brain injury, to provide care. Her mother, a major creative influence on Stefanie, who owned a salon in Pittsfield for many years, died of pancreatic cancer in 2017. And her own experience with chronic pain affords her a certain empathy.
"I'm either helping people move their body or find an awareness around how they can move differently. It's really more about a shift in consciousness, which then brings us to entire different realities about ourselves and each other," Stefanie says. "I'm not going to fix your body, but I'm going to hopefully help you see things more clearly that you might not be seeing and give you options for how to be more comfortable in your own skin."
Stefanie is holding a tap dance talk/forum and workshop called "We Danced for Rain" on Sept. 28, 2023 and four movement workshops that culminate into the filming of "A Body that Is Yours to Find" on Oct. 4, 6, 11 and 13, 2023. Learn more about Stefanie Weber.