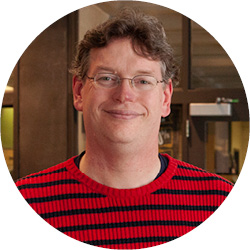 Alumni Spotlight
Tom Daly
Art and History
my

history

Tom Daly is a proud alumnus of Berkshire Community College and has a deep family history associated with the campus. From visiting his father on campus, who was a security officer in the 1970s, to meeting his wife as a student at the College and eventually hosting his wedding anniversary here, or working as a maintainer or in the Bookstore – Tom owes a lot to his alma mater for helping him turn into the art and history educator that he is today.

What's more than that, BCC English professor, the late Richard Nunley, noticed a pattern in Tom's writing behavior that turned out to be an undiagnosed form of dyslexia.

"My whole life, I had no idea that I had dyslexia. Learning about having dyslexia," Tom says, "has only been a benefit for me."

Tom first stepped foot on campus when he would visit his father, the second shift security guard, who had previously worked at Harvard. While visiting the school, Tom noticed all of the buildings had very specific names, and wanted to research who the buildings were named after.
At BCC, the names of the buildings actually inspired me to find out more about the history of our community. I couldn't figure out why they called a building Field – that didn't make any sense to me. I did my research and learned it was named for the Field family in Stockbridge, including Cyrus Field, who developed the transatlantic cable to encourage communications.
Tom says that what he also loves about BCC is its embrace of our community's deep rooted history. Whether it's naming a building after Susan B. Anthony and the fight for the right to vote for women to Herman Melville, the creator of a work of art and culture like Moby Dick – this organization, to Tom, represented our entire community.
This love of local history and research would eventually propel Tom to work as the Curator of Education at the Norman Rockwell Museum, now going on 21 years.
After Tom graduated from Wahconah Regional High School in 1985, he went to Cambridge for a bit by himself to work in a grocery store. After a while, that proved expensive, so he came home and went back to school at BCC, a familiar place he'd known in his younger years. He found a job working in the College Bookstore with Tom Condron and also worked nights cleaning the SBA and Field Administration buildings.
At the College, he first began studying environmental science with John Lambert (for whom the John Lambert Nature Trail on campus is named), but found himself drawn to the College's art and history offerings. He felt he had a better chance of finding a job in environmental science at the time, but is glad he pursued his passion in art and history instead.
As a young person, you don't always stop to realize that you can get a job you love doing – I'm surrounded by art and history every day and to say BCC influenced me to pursue my passion is a huge understatement.
While Tom worked at the Bookstore, he met his future wife, Jennifer Ambrosio, a fellow student, through a mutual friend. Their first date was at the now dilapidated Woody's Roadhouse in Washington on Halloween. Jennifer would transfer to Mt. Holyoke College to study anthropology and she and Tom would later relocate to Columbia County, NY.
Tom's mentors at the College, like the late social sciences teacher Gus Nelson, would later in his life become dear friends. Gus and Tom both had an affinity for collecting Shaker furniture – with Gus even having one of his Shaker pieces on display at the Whitney Museum of American Art.
"Gus was an amazing mentor when I was a student, and would turn out to be one of the most influential people in my life" Tom said.
Former faculty Don and his wife Marion Lathrop also helped Tom think about the world in different ways and to question everything. He is still in touch with both of them to this day.
In 1991, Tom and Jennifer married. Thanks to Gus, he landed a job at the Shaker Museum and Library then in Old Chatham NY. The couple then moved to West Virginia in pursuit of work in Washington DC. After a number of years working in Washington DC at Congressional Quarterly and Elliott and Clark Publishing, Tom would be asked to work for the Norman Rockwell Museum in 1997. In 2016, Jennifer and Tom decided to have their 25th wedding anniversary at the College.
"Often, Jennifer and I would travel back to campus and just sit in the parking lot and relive old memories about this school together" Tom said. "We decided to see if we could host our wedding anniversary in the SBA Lounge and Cafeteria, and they said we could – it was a wonderful experience."
After College, Tom would also do work for the Governor's Commission for the Cultural Economy with Governor Romney, was interviewed by Forbes magazine about neuro-diversity and for this work mentoring students at the College Internship program for ten years, and assisted the local Road Scholar's program on their Berkshire Storyteller's project, including researching various storytellers and presenting this to the public.
It all started as a kid who grew up in an area that encouraged his passion for history to blossom and grow. That was evident when he was on the BCC campus as well, which nurtured his love of art and history and showed him how he could turn his true joys into meaningful local employment and a thriving, happy lifestyle.