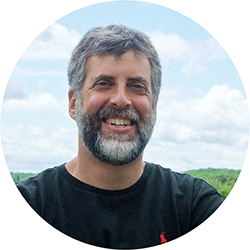 Faculty Spotlight
Dr. Joseph Kravitz
Atmospheric Science
my

Obsession

Joe Kravitz has been obsessed with the weather since childhood.

"As a kid, I was fascinated by the weather, particularly snowstorms." he said.

Despite his love of the weather, he didn't have a straight path to meteorology.

His undergraduate university, Stanford, did not have an Atmospheric Science program, so, instead, the Philadelphia native attended medical school and earned an M.D. degree at Penn State University. He completed his Diagnostic Radiology residency at Rhode Island Hospital (Brown University) and later completed a fellowship at Tufts – New England Medical Center in Boston.

He moved to the Berkshires in 1990 and worked as a diagnostic radiologist at the former North Adams Regional Hospital for approximately ten years. Kravitz describes the job, at which he read dozens of imaging studies each day, "rewarding", but he and his wife had always discussed that one day he would return to school to pursue his true passion. So in 1999, he headed back to school at the University at Albany (UAlbany) to study Atmospheric Science and earned both his bachelor's and master's degrees.

During his time at UAlbany, he realized he had another passion – teaching. While working on his PhD degree at UAlbany, he was invited to be a Visiting Professor at Bennington College for one year and loved it. During this time, he began to create the fundamental teaching structure for his Extreme Weather and Introduction to Meteorology courses.

He knew he wanted to continue teaching and decided to explore options at BCC, where he could utilize both his medical and atmospheric science backgrounds. In 2008, he introduced the idea of teaching Atmospheric Science at BCC to Charles Kaminski, Dean of Academic Affairs for Business, Science, Mathematics and Technology. One year later he started his popular Extreme Weather course. The Introduction to Meteorology course was introduced the following year.

This fall (2014), BCC launched its new Atmospheric Science concentration in the Liberal Arts degree program. The concentration provides all of the prerequisite courses necessary to transfer into the 3rd year of a four-year Bachelor of Science (B.S.) program in Atmospheric Science. In fact, an articulation agreement has been signed with UAlbany to enable students to transfer directly into the 3rd year of their program upon successful completion of BCC's Atmospheric Science concentration.

Kravitz, who serves as an instructor and program advisor, has successfully melded his passion for teaching with the weather.
Teaching is personally fulfilling. I get to project my love of the material and I enjoy the student interaction.
In addition to teaching, Kravitz posts forecasts and weather-related discussions on Berkshire County at blogs.berkshirecc.edu/meteorology/. The forecasts are also posted with weather data from the BCC weather station at www.rainwise.net/weather/bcc. Students in his Introduction to Meteorology participate in these forecasts as part of their lab work for the course. He plans to incorporate student forecasts further as the Atmospheric Science program grows.
Kravitz, who has two grown sons, resides in Richmond with his wife, three cats and a dog. When he's not busy teaching or forecasting - he enjoys traveling, biking, hiking, camping and golf.