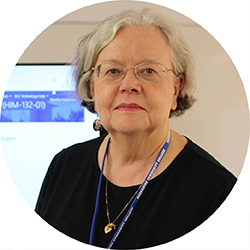 Faculty Spotlight
Marsha Estabrook-Adams
Medical Coding and
Health Information Management
my

Career Change

Marsha Estabrook-Adams grew up in the bucolic town of Malden Bridge in Columbia County, NY and graduated from New Lebanon High School. After high school graduation, she spent a few years doing office work for engineering companies. But in the late 1980s, when she found herself unemployed, she used the opportunity to make a career change and enter the field of Health Information Management (HIM).

"My mother had worked in the Medical Records Department at Albany Medical Center, and my sister also worked as a medical transcriber at a hospital in Springfield," Marsha says. "It seemed they always had jobs and enjoyed the work. I took the opportunity to get the education I needed to work in the HIM field."

She began by enrolling at Berkshire Community College, where she took courses in medical transcription and medical office management. At that time, those collecting unemployment could attend a Massachusetts state college tuition-free.

At BCC, Marsha recalls getting the support she needed. One of her professors was Katherine Katsounakis, who taught office management skills. "She was a wonderful teacher and person. I admired her very much and still do. She helped me believe that I could accomplish anything I set out to do," Marsha says.

Marsha's path to a career in medical coding/HIM led to attending Holyoke Community College to earn an associate degree in Medical Record Science and working at Berkshire Medical Center as a medical records clerk and medical coder. There, she quickly saw the opportunity for career growth and decided to pursue a bachelor's degree from North Adams State College (now MCLA), where she majored in business administration with a minor in economics. Now armed with specialized degrees, Marsha was able to secure management positions, including an assistant directorship at Southern Vermont Medical Center and a job as a director at North Adams Regional Hospital.

But Marsha wasn't done yet.
I had succeeded in meeting my career goal of becoming a Director of HIM at a hospital, but I ultimately wanted to teach HIM at the college level," she says. "I knew I needed a master's degree to do that." College recruiters at a HIM convention drew her attention to the College of St. Scholastica in Duluth, MN, which offered a master's degree in HIM and Healthcare Informatics. She took the plunge, enrolling in online classes and earning her master's degree.
At a chance meeting, Marsha learned from one of her colleagues, the Director of HIM at Berkshire Medical Center, that BCC had begun a HIM workforce training program — but they needed teachers. This was the opportunity she'd been looking for. Ultimately, Marsha participated in the development of the HIM program for BCC and joined the faculty. The transition from being a HIM director to a teacher came naturally.
I liked working with people, and I didn't want to look at charts and graphs all day.
She found an interesting, diverse group of students at BCC, many of whom were non-traditional students who had lost their jobs or were on unemployment and needed to further their education and training to find good jobs. Some earned HIM certificates while others completed their associate degrees; regardless, most have been successful finding employment.
"My students have gotten jobs that pay well," she says. "I always encourage them to get credentialed when they finish at BCC. It's a tremendous hiring tool." Becoming credentialed involves passing a national exam administered by either the American Association of Professional Coders (AAPC) or the American Health Information Management Association (AHIMA), she explained.
Jobs in the field, such as medical coders, are in demand — and that demand is rising. "This past year, we did a survey of healthcare facilities within 100 miles of BCC, and 88% of them had current openings in medical coding," Marsha says.
In addition to coding, other jobs in the HIM field include auditors, privacy and compliance officers, managers, and directors. For those interested in pursuing a career in HIM, Marsha recommends doing research into the profession. "Visit the AAPC and AHIMA websites. Contact the HIM department at a local hospital or healthcare facility to see if someone there could talk to you about their job. Attend a local AAPC chapter meeting or a local AHIMA state meeting," she suggests.
Most of all, Marsha underscores motivation as the key to success.
The opportunity is there if you take it, but it has to be your choice to take control and change your path in life. Once you do, BCC will be there to support you. I love BCC because it changes lives through education and training.