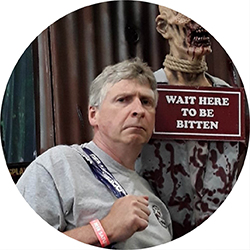 Faculty Spotlight
Tom Carey
Respiratory Care
my

calling

It was the summer of 1982, and Tom Carey was headed to Hillcrest Hospital in Pittsfield. With a fresh master's degree from UMass Amherst, he'd heard Hillcrest was hiring respiratory therapists. There was only one problem: He was lost. In an era before GPS and cellphones, Tom followed the blue hospital signs, but they led him to Berkshire Medical Center. He stopped in, figuring he'd ask for directions, but as fate would have it, he met the director of respiratory care. Upon learning of his plans, the director interviewed him on the spot, explaining that there was a respiratory care program starting up at Berkshire Community College. One thing led to another, and Tom began his career at BCC that November, nearly 39 years ago.

Starting as an instructor, Tom moved up the rungs of the academic ladder, becoming an assistant professor, associate professor, professor, Director of Clinical Education for the Respiratory Care Program, and eventually landed in his current position, Professor of Allied Health, Respiratory Care. His career success surprises even himself at times. 
I didn't know what I was going to do when I graduated high school," Tom recalls. "My brother was getting into the medical field at the time and suggested I try respiratory therapy. So I thought, why not?"
He enrolled at Hudson Valley Community College, where he earned an associate's degree before moving on to SUNY Medical Center, College of Health for his bachelor's degree and UMass Amherst for his master's of public health (MPH) degree.
Allied health, Tom explains, encompasses ancillary services beyond the regular medical care of a doctor or nurse, such as respiratory care, physical therapy, imaging, and phlebotomy. Respiratory care, his field of specialty, involves lung diseases such as asthma, bronchitis and emphysema; underdeveloped lungs in premature infants; respiratory failure requiring critical care; pulmonary rehabilitation; and multiple traumas. Though the field is always integral to the medical profession, COVID headlines highlighting the shortage of respiratory medical personnel and mechanical ventilators have thrust respiratory care into the spotlight.  
BMC almost ran out of mechanical ventilators when COVID was at its peak, so we were on call to bring over BCC's equipment if necessary," Tom says. "Fortunately, we didn't need to."
Tom teaches Anatomy and Physiology I & II, Pathophysiology, Essentials of Pharmacology, and Fundamentals of Human Disease. With an average class size of only 20 students, he's readily available for help after class or during a lab. Over the years, he's seen his students become registered nurses, physical therapy assistants, respiratory care therapists, and massage therapists. Some go on to earn advanced degrees, using BCC as a stepping stone for more advanced careers.
"I love to see my students succeed, to make a difference in their lives and the lives of others," he says. An example comes to mind.
One of my students was a guy who worked at a factory and got burned out. He knew nothing about respiratory therapy but decided to give it a try. That guy went on to work in Wisconsin, where he received the Respiratory Therapist of the Year award."
As Tom heads into partial retirement — he'll stay on as an adjunct professor and teach two classes per semester — he reflects on the challenges of his job and the satisfaction that goes along with meeting those challenges. "One of the hardest things I do is teach students very technical subject matter, like metabolism, and make them totally understand it," Tom says, noting that he often uses humor to make his classes memorable. "I like to take a complex issue and make it fun."
He also muses over the way teaching itself has changed over the years. "When I started, there were two copiers on campus. We used chalkboards and overhead projectors," he recalls. "I typed all my exams, and there was no email. Now, I can dictate everything, and the technology we use is amazing. It's been cool to see it change over the years."
As for his partial retirement, Tom plans to get projects done around the house, hang out with friends who are retired, and "bug the crap out of the children," he jokes. A resident of Lanesborough, he lives with his wife Jane and her 20-year-old daughter Lexi. He has three grown children: Shannon, 30, Allison, 28, and Connor, 26.
I'm going to enjoy every minute of my retirement, but I'm not quite ready to give up BCC yet," he says.