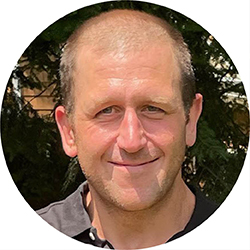 Student Spotlight
Mike Kusek
Visual Arts
my

art

You might not guess that a systems engineer at General Dynamics has a passion for art. But for Mike Kusek, making paintings is second nature. Currently enrolled at BCC as a fine arts/visual arts major, Mike is well on his way to an associate degree — a degree that complements a bachelor of science degree he earned almost 20 years ago at Central State Connecticut University. There, he was a computer science major with a minor in mathematics.

After growing up in Connecticut and living in Michigan for a time, Mike moved to Pittsfield 14 years ago to take a job at General Dynamics as a software test engineer. He rose through the ranks, sometimes working 80-hour weeks, but challenges in his personal life changed his entire way of thinking.

"I had just gone through a divorce, and I was physically unhealthy," Mike recalls. "I got sicker and sicker." Eventually admitted to Bay State Hospital with a serious infection, he used his recovery time to reflect on his life, deciding to get healthy and spend more time doing the things he loves. After losing an astounding 100 pounds, Mike now works out six days a week, plays the bass guitar and creates art whenever he has time. He remarried a year ago to Marissa, a woman he calls "the love of my life," who was a single mother with five academic degrees. She brought two children, Amelia and John, to the marriage, and he has a son, Paul, from his previous marriage.

Mike's interest in art started at a young age, when he began drawing as a hobby. When he was in first grade, his teacher noticed he colored everyone's hair green. She suspected colorblindness, which was soon diagnosed as moderate deuteranopia. The most common form of colorblindness, the condition is found in about six percent of the male population and is often characterized as red-green colorblindness. Mike explains that for him, red and green look about the same, as do green-brown, blue-purple and pink-gray combinations.

So how, then, does he achieve the vibrant, wide range of color used in his acrylic paintings? That's where computer science comes in. "I've learned a lot about color theory online," Mike says. "I can sample pixels or use the HEX code of just about any color I want." Sometimes, he adds with a laugh, he asks his wife or kids to verify his color choices are correct.

"I'm kind of a magician with color, which most people wouldn't know unless they asked me about it," says Mike, whose paintings range from serene beach scenes to modern color-block canvases.

Painting is something he hadn't really tried until his wife convinced him to take art classes at BCC. That's where he met Dr. Keith Shaw, Adjunct Professor, Fine Arts, and Lisa Griffith, Professor of Fine Arts.

"They both fueled a passion to create paintings. It was a whole new challenge," says Mike, who had previously dabbled in ink drawings, cartoons, mazes, portraiture and realism. Dr. Shaw introduced him to Picasso, which was life-changing.

"I learned that Picasso's philosophy was, why waste time trying to draw a photo when I can just take a photo? We should make the paintings we like. It doesn't have to be profound," Mike recalls. "My mind was blown."

Mike also gets inspiration from Michelangelo, who said, "A man paints with his brains and not with his hands." The artist drew countless sketches before creating a sculpture, a practice Mike admires and one he adopts before creating a painting.

With such lofty artists at the forefront of his learning experience, it might be surprising to learn who Mike's favorite artist is: Bill Watterson, creator of the Calvin and Hobbes cartoon. "I've loved him ever since I was a kid," he says. "His black ink drawings, especially the snowball fights, really influenced me."

At BCC, Mike's classes became completely remote due to COVID-19, but the arrangement suits him. "I reported in for studio classes and took photos of my paintings, which worked out really well," he says, explaining that his professors allowed him to maintain the remote learning model even after classes went back to in-person so that he could maintain his full-time work schedule. "They trust me to keep up with my work."

In fact, Mike's paintings were getting noticed. In May 2022, he was invited to bring 15 works to an art exhibition in Koussevitsky Gallery.
It felt incredible to bring my eight-year-old son Paul with me to look up at paintings of mine that he'd seen on the walls of our home up on display for everyone else to see. For him to smile at me and ask if that was one I made, to see others enjoying them with us, that was really special.
Although Mike was unable to take classes during the spring semester, he qualified for life experience credits and plans to resume classes in the fall. "I'm fortunate that my work schedule is flexible and that I have good relationships with my managers," Mike says. "I have a good job. My art isn't my career — I keep my career and this passion separate."
Now that he has become comfortable with acrylic as his medium, Mike is "painting up a storm," covering the walls of his home with his colorful creations. He says he may decide to transfer to MCLA or UMass Amherst for a bachelor's degree in fine arts and envisions himself one day "painting on the beach somewhere down south," but for now, he's content creating art part-time with the support of his wife, playing bass guitar, going to the gym or hanging out with his kids.
Juggling a full-time job and art classes requires constant, clear communication, Mike says. For other non-traditional students like himself, he suggests, that kind of open communication is key.
I always get my manager's approval before taking any classes. I'm up front with my employers and my professors. Be professional, be responsible, but also be realistic with your expectations. Find a balance in your life that works for you.