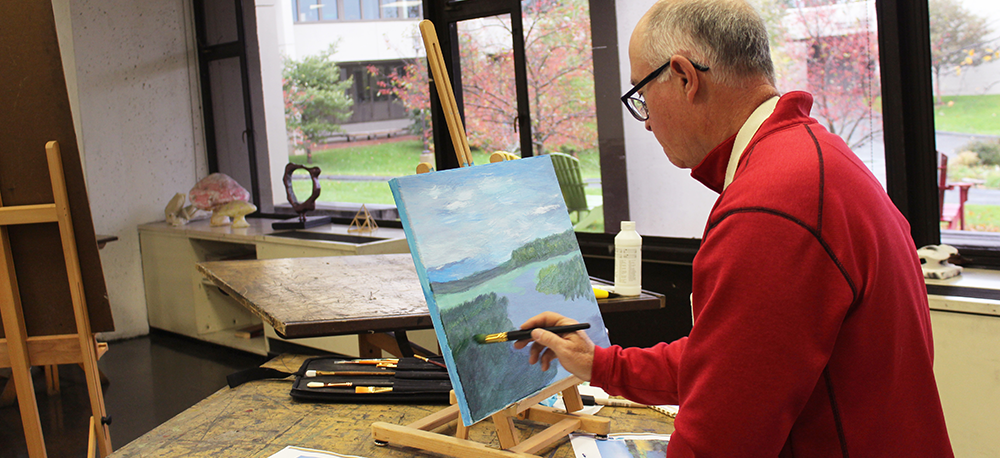 The Visual Arts concentration in the Fine Arts degree program offers courses comparable to those taken during the first two years at typical professional art schools and in college or university art departments. The program's flexible design permits students to transfer to both kinds of institutions. There is a strong emphasis on foundation courses, and each student is encouraged in the development of a portfolio. Related majors at the baccalaureate level include art education, art history, art therapy, arts management, commercial art, fashion design, film making, graphic arts, industrial design, interior design, painting, photography, sculpture, and textile design.
This is a MassTransfer eligible program.
JOB GROWTH AND WAGES




*Dependent on achieving a Bachelor's degree.
Craft and Fine Artists: $48,960/year; Job Growth: slower than average Fashion Designers: $72,720/year; Job Growth: slower than average Graphic Designers: $50,370/year; Job Growth: slower than average Interior Designers: $53,370/year; Job Growth: as fast as average Industrial Designers: $55,000/year; Job Growth: as fast as average Art Teacher: $38,000/year; Job Growth: as fast as average

POTENTIAL TRANSFER DEGREES




Graphics Design

Animation

Illustration
Painting & Drawing
Art Education


Ceramics

Sculpture

Industrial Design

Interior Designer

TRANSFER SCHOOLS

University of Massachusetts Amherst/ Dartmouth/ Lowell

Massachusetts College of Art & Design

Savannah College of Art and Design (SCAD)

Rhode Island School of Design (RISD)

The School of the Art Institute Chicago

School of Visual Arts New York

Sage College New York

Massachusetts College of Liberal Arts (MCLA)


Pratt School of Design

EXPECTED OUTCOMES




Graduates of this program should be able to:

Demonstrate an understanding of the visual vocabulary of art forms and techniques;

Demonstrate with confidence an ability to solve artistic problems during the process of creating art;

Develop an artistic style that demonstrates creativity and the personality of the artist;

Demonstrate an ability to articulate and write about art projects that they are executing; and

Demonstrate a general knowledge of contemporary art history, both at a conceptual level and in the context of creating one's own art work.
SEMESTER 1


Drawing I
Two-Dimensional Design I
Three-Dimensional Design
English Composition
Pre-Renaissance Art History

SEMESTER 2


Drawing II
Two-Dimensional Design II
Renaissance to Modern Art History
English Composition/Writing
Mathematics

SEMESTER 3


Printmaking I
Fundamentals of Painting
Digital Art
History
Figure Drawing



SEMESTER 4
Figure Drawing
Fine Art Elective
Behavioral & Social Science
History



SEMESTER 1
Drawing I
Two-Dimensional Design I
Three-Dimensional Design

SEMESTER 2


English Composition
Pre-Renaissance Art History
Drawing II

SEMESTER 3


Printmaking I
Renaissance to Modern Art History
English Composition/Writing

SEMESTER 4
Two-Dimensional Design II History
Mathematics

SEMESTER 5
Fundamentals of Painting
History
Natural or Physical Science

SEMESTER 6


Figure Drawing
Fine Art Elective
Natural or Physical Science

SEMESTER 7


Digital Art
Behavioral or Social Science Fitness Requirement