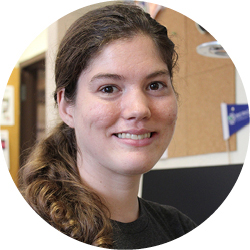 Alumni Spotlight
Hannah Graether
Early Childhood Education
my

Alma Mater

Hannah Graether, class of 2011, was a student at BCC with a learning disability. She earned her associate in early childhood education, her undergraduate degree in environmental biology, and also spent time teaching students in the woods as field study work as she worked to earn her Master's in Education.

Graether is also a dynamic young woman with an outgoing personality and a talent for storytelling. She looks back fondly on her time here at the College, often visiting her alma mater when she is in the area.

When asked what she misses the most about BCC – Graether doesn't hesitate to say that she misses the people. Without the emotional safety net that BCC provided Graether, she wonders if she would have been as successful – both in achieving her dreams here locally, but also in now being able to help other students achieve similar aspirations.

Graether has dyslexia – which was misdiagnosed until she was 16 years old due to an emotional disorder that she had growing up. Her dream is to teach students with learning disabilities and help them get along in life.

She also thinks attending BCC was the best decision she ever made.

"I wasn't ready for a four-year school – I just wasn't ready for it after high school" Graether said. "I started at BCC part-time taking like two classes – and then by the time I was ready to graduate from BCC I was taking 16 credits."

That ability to go from a part-time student with a learning disability to a more than full-time student – who is now off onto bigger and better things, is due to the support Graether received from TRIO, Student Support services, and Pam Farron, the College's Disability Services Coordinator.

"What makes BCC special is the small classes and the teachers are approachable," Graether said. "And, the support systems were amazing and people really knew what they were doing."

Graether went to Cazenovia College in Cazenovia, NY for her undergraduate degree in environmental biology. She credits a course she took at BCC with Professor Tom Tyning, called Field Methods, for inspiring her to pivot from her associate's degree in early childhood education to really focus on environmental sciences.

"So, I ended up taking a few more science classes here on campus after I graduated from BCC and then asked myself, okay was that just a fluke, or do I really like science?"

Graether then moved to the west coast and enrolled in the Islandwood Residency program of the University of Washington. The program was on an island surrounded by 255 acres of woods – and is based on the principle that a more sustainable future demands knowledgeable, committed and reflective educators.

She is on track to get her Master's in Education from the University of Washington. She thinks that a lot of the help she received at BCC helped her be a better peer mentor, and also a better teacher.

In the future – Graether wants to teach her students to learn how to ask the right questions. She thinks that BCC professors Tom Tyning, June Tooley and Charles Prescott showed her how to help students expand their thinking and designed lessons around asking questions that more deeply developed your mind.

Graether plans on taking these life lessons and sharing them with other students – just, not around here. "My focus right now is also to finish my masters – but my focus is to help teach special needs kids in either Australia or Hawaii" Graether says, adding: "It's just too cold here."

Graether credits BCC with literally changing her life. Now, she lives in Washington with an ocean view.