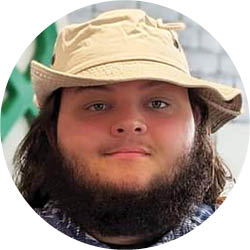 Alumni Spotlight
Jakob Revett
Environmental Science
my

Transformation

Jakob Revett, a 22-year-old Adams native, graduated from BCC in December with a major in environmental science. He is currently in the process of transferring his records to MCLA, where he plans to keep the same major and possibly add a minor in earth science. After that, Jakob has no set plans — and that's fine with him.

"I haven't made up my mind. I'm still searching," says Jakob, who knew he always wanted to pursue higher education despite having "not the greatest grades" in high school. Though he entertained attending a four-year school, he ended up choosing BCC because it was cost-effective, close to home and came highly recommended from family members.

"I looked at BCC and saw I could get into an early college program, which I did in my senior year," he says. He signed up for U.S. History II to get his feet wet in the college academic environment. After graduating from McCann Technical School, Jakob officially enrolled at BCC.

"It wasn't anything predestined — it just kind of happened," Jakob says. He originally planned to study astronomy or physics, but he changed his mind when he came to the realization that mathematics was not his strong suit.

"It took a long time to accept that, but once I got into college and started working, things just kind of fell into place," he recalls. "It wasn't easy at first. It takes time, passion, resources."

At the start, Jakob took 13 - 14 credits, but that proved to be too much, too fast. After failing a few of his core classes, he reduced his course load and made an effort to ask for help when he needed it, despite his initial reluctance to do so.

"It takes fortitude to move on with your life," he says. "After I began to ask for help, BCC helped me with all the resources I needed. I ended up making the dean's list a few times and worked in a prestigious lab."

In the Hoffman Environmental Center lab, Jakob worked closely with Professor Tom Tyning on a geological survey. He was charged with identifying several geological specimens, writing descriptive labels and organizing them. "At one point, I was able to deal with fossils and choose the ones I thought were interesting to study," he says. "It was a good job. I got a lot of experience under my belt and had fun doing it."

In addition to lab work, Jakob particularly enjoyed field work. "I was getting out there, getting my hands dirty. We got to count snakes, insects, rodents. It was really cool," he says. "Sometimes you would come across something totally unique."

Now, Jakob says, he feels prepared to move on to the next stage of his academic path.

"BCC has prepared me in ways I could not have thought of," he says, noting in particular that his interpersonal communication skills have improved. "I was never really socially apt when I was growing up. I was always quiet. I never moved forward to express what was on my mind — I just rolled with the punches," Jakob says. "l learned how to adapt my own emotions and feelings into how I operate every day."

Unlike high school, where social hierarchies and cliques are the norm, college is a place with a level playing field, says Jakob, who took classes with young high school students and senior citizens alike.
I never adapted well in high school because I never understood the social hierarchy. That's a critical way BCC has helped me, aside from giving me real-world tools and real-world scenarios. It's a new experience. You get to shed that old shell or find a new one. You walk away stronger than you were before.
Sometimes, the path to the end goal is not necessarily a straight one, Jakob says.
"My path was not linear. You hit bumps, you get stuck, you hit walls you think you can't get around, but there are people there to help you. It's easier when there's a hand willing to help you up," he says. "At BCC, they want to see you succeed. They want to see you get out there and do something with yourself. And you can always change your mind and do something else. The credits will still be there."
Jakob is quick to share his philosophy of striving to be the best you can without doing harm to others.
"I don't have a quitter's attitude. If I'm going to do something, I'm going to do it to the best of my ability and take it as far as I can, without hurting myself or others," he says. "If you put the work in, there's a good chance you'll get something out of it."
In fact, his favorite expression is the Latin per aspera ad astra, meaning "through hardship to the stars."
"You have to get through hardship to get to your ultimate goal. We can aim for the stars, but we don't have to step over people to get to that point," Jakob says. "We can help and be compassionate. We are all human. The world is a big place, and there's space for everyone."