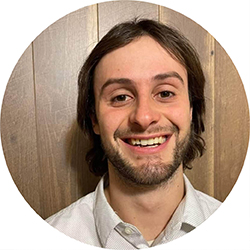 Alumni Spotlight
Michael Hruby
Massage Therapy
my

therapy

When Pittsfield native Michael Hruby graduated Wahconah High School in 2018, he began taking engineering classes at BCC. He enjoyed his classes, but he soon realized it was not the path for him.

"I'm not a sitting down kind of guy. I couldn't imagine sitting behind a cubicle all day," he says. He started thinking about pursuing physical therapy but wasn't sure he wanted to commit to five years of education. Enter Wayne Klug, BCC professor of psychology. Michael met Wayne while volunteering at Massachusetts Public Interest Research Group (MASSPIRG).
I was between semesters, trying to figure out what I wanted to do. Wayne suggested I try massage therapy and pointed me to the BCC certificate program.
He decided to switch gears and entered the program, working as a dietary aide on weekends but mostly spending his time reviewing and studying the intensive course content. A careful planner, Michael says he took "higher spec classes than required" to be sure all his credits would be transferable if he decided to pursue further education. He completed the program in December 2019.
In a nutshell, the Massage Therapy Certificate Program at BCC prepares students to become state licensed massage therapists with the skills and knowledge necessary to provide effective relaxation and wellness massage. Students apply the knowledge of anatomy, physiology and pathology to provide safe and effective massage therapy sessions. Graduates enter various work settings such as spas, franchise clinics, fitness centers and medical/wellness offices. 
Michael chose to work at Miraval Spa, located in the former Cranwell Resort in Lenox and owned by Hyatt Hotels. Miraval, one of several local employers to visit graduating massage students at BCC, impressed Michael with their one-on-one approach and willingness to take on new graduates.
"The great thing about this career is that there are so many different branches you can go forward with. Massage encompasses so many different things. You have energy modalities, Swedish massage and deep-tissue massage, but then you can go even further into rehabilitation therapies like neuromuscular massage and positional release massage therapy. I want to help people with rehabilitation, not just relaxation."
At Miraval, Michael plans to get as much training in various massage modalities as possible, such as hot stone massage, reflexology and body scrub massage. "Miraval really supports their massage therapists. There's good room for growth," he says, adding that working with experienced professionals makes him "a better therapist."
Massage therapists enjoy excellent job opportunities with good pay. According to the U.S. Department of Labor — Bureau of Labor Statistics, employment of massage therapists is projected to grow 32% from 2020-2030, much faster than average for other occupations. In addition, Massachusetts is one of the top five paying states for massage therapists, with an avergae wage of $69,790 per year.
One of the unexpected aspects of Michael's massage therapy career is the diversity of people he works with, both fellow staff and clients. "You'll find when you go into the field that a lot of people are former physical therapists or nurses. Many people enter this career later in life," says Michael, who had never gotten a massage before he entered the field. "And because I'm working at a destination resort, I've had clients from Ireland, India, Australia, California, New York and the Berkshires."
Reflecting on his education, Michael is passionate about the small class size and personal instruction at BCC. With only eight students in the program at the time, it was a close-knit group who studied together.
"I really liked going to a community college, and BCC saved me a lot of money," Michael says, adding that because class sizes are small, instructors can work directly with students.
All the professors I've had enjoy their job. You can always see them during office hours — they're willing to spend as much time as you need," he says. Tutoring sessions are also free and readily accessible, unlike many major universities.
Michael is also passionate about learning a trade. "There are not enough people in the trades, and BCC is the perfect place to learn," he says. "In massage therapy, we use our hands just like carpenters or electricians, and there is always a need for skilled tradespeople."
If not busy working at Miraval, you'll find Michael skiing, mountain biking, trail running or hiking. "I'm pretty much always doing something active, and I like having an active job," he says. "I also like the thought of helping people. It's something I didn't realize until later, but now I can't wait to learn more."