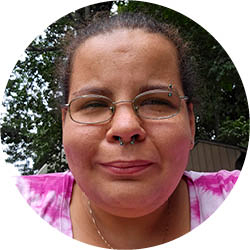 Alumni Spotlight
Wendi Ridgeway
Phlebotomy
my

Determination

Phlebotomy is literally in Wendi Ridgeway's blood. Her grandmothers and great-grandmothers were nurses, and she had an interest in healthcare at a young age.

"It's a genetic thing for me," says Wendi, who has lived in Pittsfield for more than 13 years. Born and raised in southern New Jersey, she graduated from Bridgeton High School and immediately took a medical assisting class. She liked the phlebotomy part of the classes best, even though she had some obstacles to overcome.

"I used to have a fear of needles until I went through the medical assisting course when I was 19. We used each other as test dummies, not fake arms, so I got over that fear very quickly. In order to get an arm, you had to give an arm," recalls Wendi, who also had to overcome the fact that she failed the accreditation exam the first time she took it.

When she was 20, Wendi moved to Pittsfield and enrolled at BCC for the prerequisites she needed for nursing. Eventually leaving college to care for her mother, she began working for Berkshire Family and Individual Resources (BFAIR), where she remained for three years before returning to BCC in 2017 to take the Certified Nursing Assistant (CNA) course. This time, Wendi faced the challenges of the class and worked harder.

"I refused to fail the test a second time," Wendi says, and true to her word, she easily passed it. She began working as a CNA at Hillcrest Commons, then at Berkshire Place on South Street.

She has held several part-time positions, including cashier jobs at T.J. Maxx, BJ's Wholesale Club and Cumberland Farms. Currently, she works three jobs: one for the Department of Developmental Services (DDS) in a shared living home during the day, one as a cashier at Cumberland Farms at night and one part-time position at Berkshire Place.

Recently, Wendi completed the new Phlebotomy Technician Certificate program at BCC, which she finished in 12 weeks plus clinicals. Her timing was perfect.

"I had been waiting and waiting for BCC to have a phlebotomy class, periodically checking the website, until one day there it was," she says. Even better, she learned that the Workforce Development program at BCC would pay for the entire course, including the cost of books and the exam fee.

Even better, she learned that the Workforce Development program at BCC would pay for the entire course, including the cost of books and the exam fee.

"It was very convenient for me because the classes were at night, so it worked with my job schedule," she says, noting that BCC's convenient location close to home was a far better option for her than driving an hour each way to Springfield Technical Community College, the next-closest school where phlebotomy certification is offered. "And, it was totally free. You can't beat it."

Wendi says the small class size and the excellent instruction by Mary Ott-Dahill made the class enjoyable, although its accelerated pace was challenging. Ott-Dahill is a special education teacher/liaison for the Westhampton Elementary School and teaches the evening BCC phlebotomy classes.
It was a lot to learn in a little bit of time, but if you studied, you did well. The instructor went out of her way to make sure we knew what we were doing.
In particular, Wendi says, the study group Ott-Dahill held a week before the certification exam was "extremely helpful."
While Wendi says she loves her job at DDS, she would one day like to pursue phlebotomy as a career — but first, she plans to go to school for mortuary science. Ideally, she would work as a phlebotomist in a morgue.
For now, she has helpful advice for the living, especially for those who are afraid of needles.
"If you have a fear of having blood drawn, always inform the phlebotomist ahead of time. That can help you avoid a situation like passing out," she says. Wendi also advises eating and staying hydrated before the blood draw.
With her phlebotomy certificate in hand, Wendi is eager to help others along the same career path. "We need phlebotomists. We need people in healthcare," she says. "I've been trying to spread the word. Anyone interested should go sign up for the class at BCC!"