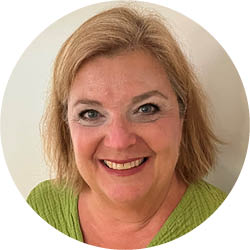 Faculty Spotlight
Laurie Vilord
Medical Coding
my

Motivation

When Laurie Vilord decided to change course in her career, she tackled it with gusto, earning a Medical Coding Certificate and a Health Information Management (HIM) Certificate from BCC in just one year. "I don't really recommend that, but I'm kind of an overachiever," she laughs.

Having grown up in East Greenbush, New York, Laurie married and moved to Orange County, New York, then to Lenox, Massachusetts about 25 years ago. Along the way, she earned a bachelor's degree in social work and completed post graduate work in public relations. She was a social worker for eight years, but when she married, she decided she needed a less consuming job and became a librarian and eventually a library director. With the move to Lenox, she worked as a librarian and as Assistant to Principal at Valleyhead School serving girls with emotional issues.

"I had worked a bunch of different non-profit jobs, and I decided I needed to do something different," Laurie recalls. With the advice of Berkshire Works, she attended a job fair at Berkshire Health Systems.

"They were talking about this new program they had created with BCC for medical coding and HIM. I thought that sounded interesting, so I decided to make a jump for it," Laurie says. "It was quite different than anything I had ever done, but there's something very structured and organized about medical coding that's similar to being a librarian."

After graduating with both certificates in 2015, she passed the American Academy of Professional Coders (AAPC) credential exam, the standard for all medical coders in the United States. "I interviewed right away at Stratton VA Hospital in Albany and was hired after my first interview," Laurie says. "It was crazy!"

Two years later, the nearly one-hour commute from Lenox to Albany became a thing of the past when all the medical coders at the VA were given the option to work from home.
So, even before COVID, our jobs were going remote, and now even more so. Working from home is a huge driving factor in attracting people to this career, especially in a place like Berkshire County where we have to deal with snow, rain, sleet and hail.
Promoted annually and now a senior staff member, Laurie starts her workday at the VA at 6 a.m., but when her shift ends at 2:30 p.m., her day isn't over. Since 2017, she has taught medical coding classes at BCC at night. Together with Marsha Estabrook-Adams, who teaches BCC's HIM classes, they run the entire medical coding program under the direction of Dean of STEM and Allied Health Frank Schickor. Now the advisor to the program, Laurie teaches students who learn from the classroom, remotely or a hybrid of the two.
But what, exactly, is medical coding?
"It is essentially reading a person's electronic medical record, scanning through the entire thing, and then abbreviating it into a series of codes made up of letters and numbers that describe every symptom, every diagnosis and every procedure that was performed on the patient," Laurie explains. The coded information is then sent on to Medicare, Medicaid and private health insurance companies for reimbursement — but that isn't the only reason for medical coding. It's also used to collect data for organizations like the Centers for Disease Control and Prevention.
"Medical coders are hugely instrumental in the CDC getting all its data about COVID, for example," Laurie says. "We're the ones tallying up all the numbers of people being vaccinated and treated, the numbers of people who have had COVID, and data on fully vaccinated, partially vaccinated and unvaccinated people."
She further explains that medical coders also collect and distribute data about accidents like falls. "Let's say a person fell and hit their head. How did they fall? Where did they fall? Were they working when they fell? How old are they? All of that data gets crunched into numbers, and that determines how insurance happens."
Medical coders are in growing demand across the country, Laurie says, and Berkshire County is no exception. "Medical coding is only about one generation old, so people who are in their 60s who have coded their whole adult lives are nearing the end of their careers. The business is booming, especially with retirement of all these first-generation people," says Laurie, whose salary at the VA has more than doubled in just six years. "In our business, it's all about credentials. If you can pass the exam, you can get a job."
A typical medical coding student is someone midway through their career who might be looking for a change, higher pay or more job stability, Laurie says. Her students often work for large medical organizations like BHS, while others work for small doctors' offices, insurance companies or federal government agencies. Still others might segue into the technical part of the field and secure a job with a software company.
"Once they hire you, they want to keep you, because the need is so intense," Laurie says, noting that many employers will pay for continuing education for medical coders. BHS, for example, reimburses qualifying employees for medical coding classes at BCC — a large part of the appeal of the collaborative program.
"This particular program started because BHS came to BCC and said, "Can you design a program to train medical coders for us?' she says. "It's a beautiful connection between two major forces in Berkshire County."
When Laurie isn't hard at work with medical coding or teaching, you can find her gardening, painting, vacationing on the coast of Rhode Island or just relaxing with her rescue dog Sophia, an English bulldog named after a character on "The Golden Girls." She shares 16 raised garden beds with her brother in Lee, Massachusetts and is a member of two decorative painting clubs.