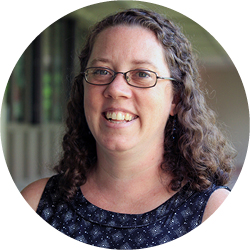 Faculty Spotlight
Nell McCabe
English
my

Support

Nell McCabe, a professor of English at Berkshire Community College (BCC), dropped out of high school at the age of 16. With the support of her parents, McCabe spent several months in London, interning at an architectural firm, but soon returned to be closer to friends and family.

Knowing that education was an important part of her future, McCabe enrolled at Berkshire Community College – taking classes at the South County Center in Great Barrington. "I was always a good student, high school just didn't work for me." She enrolled part time while working a variety of jobs: in a video store, as the Marketing Director for Railroad Street Youth Project, and at Tom's Toys.

"I was one of those students who ended up going to school at BCC for like eight years after getting my GED," McCabe said. "I also had my daughter Matilda at 23 and my daughter Freya two years later. As a student with young children, I needed the support of family and friends; it's too hard to do it by yourself."

After graduating with an Associate degree in Liberal Arts, McCabe went to the Massachusetts College of Liberal Arts to earn her Bachelor of Arts degree in English/Communication. Shortly thereafter, she took on a Teaching Assistant post at the University of Missouri where she earned her Master's degree in English.

Once back in the Berkshires, she was hired as an adjunct English faculty member in 2012 here at the College.
The Berkshires are a place where I feel comfortable," McCabe said, when asked what brought her back to the area. "It's where my people are. Human connections are really important to me."
Two years later, BCC hired McCabe as a full-time Assistant Professor of English.
As a teacher of writing, McCabe says that she loves being in the classroom, where she spends most of her time "encouraging students to think about things in new ways. To think things through in writing and to constantly question assumptions and ideas that they take for granted." In addition to introductory writing courses such as Composition and College Writing Practices, McCabe also teaches a variety of literature and creative writing courses.
In literature classes, McCabe encourages students to think critically about literature through creative projects.
I like to experiment with form – I write these assignments and create parameters, but if students have a better idea that meets the same learning objectives, I'm all for it!" Recently, her Modern Fiction students produced a wide range of literary projects including several short films, a comic book, a board game, an author interview, and a podcast. "It's really exciting to see what students can come up with when you give them flexible guidelines and tell them to just go for it," she says.
Along with her colleague Matthew Müller, McCabe helped to launch the campus Writing Center in the fall of 2015. The Writing Center is a space entirely dedicated to supporting student writing across the curriculum and is staffed by peer tutors. "It's a very student-centered space," McCabe says, "and it's been really incredible to see how dedicated our tutors are to helping their fellow students improve their writing."
McCabe hopes to continue to help the Writing Center thrive and is working to ensure that a concentration in English for a Liberal Arts degree is available here at the College soon. When asked, she'll tell you her favorite author of the moment is George Saunders, and she recommends his most recent short story collection, Tenth of December. Saunders' writing, McCabe says, is "heartbreakingly beautiful. Saunders just has so much empathy for his characters."
From high school dropout; to part-time student, worker, and full-time mother; to eventually teaching at her alma mater and inspiring future generations to excel on paths she has walked herself – McCabe has the talent, perseverance, and passion to help students at the College learn how to write, and to do it well. To her, writing is the backbone of everything else that a student needs to know, and she looks forward to helping others use writing to fulfill their passions.