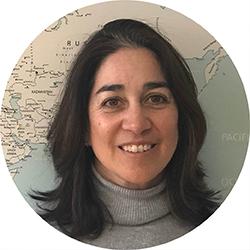 Staff Spotlight
Ana Suffish
Director of Adult Learning Program
my

reward

Once a psychology major at College of the Holy Cross in Worcester, then a human resources professional and then a stay-at-home mom active in the Egremont PTO, Ana Suffish didn't foresee her future as the director of BCC's Adult Learning Program (ALP). But a deeper look into her background provides insight.

When Ana's older brother was just six months old, he and her parents immigrated from Guatemala to the United States, where Ana was born. When she was six, they moved to Pittsfield, and Ana attended the local public schools. They grew up in a household she calls "a combination of Guatemalan and American cultures," but her parents were some of the few Spanish-speaking people in the Berkshires. Ana spoke mostly Spanish at home and spent summers going to school in Guatemala — an experience she credits with becoming bilingual.

As a young adult, Ana moved to Boston and got married, but the Berkshires called her back home shortly after her first child was born. "It's a great place to raise a family," Ana says, noting that there is now a much larger Spanish-speaking population here than when she grew up. In the Egremont school system, where her children attended, she helped Spanish speakers with translation and became an English for Speakers of Other Languages (ESOL) tutor. It was a fulfilling job, but when she saw an advertisement for an administrative assistant for BCC's ALP program, she jumped on the opportunity.

"I applied and got the job, and then when the director left, I took over as interim director. Five years later, I'm still here," she laughs.

The ALP program at BCC offers a variety of classes to non-native English speaking adults, all for free — something Ana says is critical. "When there is no financial burden associated with taking classes, it takes away potential barriers and gives people the motivation to sign up," she says. "It's a big commitment, especially considering that many of our students have families and are working full time."

In general, students should expect a six-hour commitment per week, plus some asynchronous time. Class size averages 18 people, and both day and evening sessions are offered. Available ESOL classes include three beginner courses, three intermediate and two advanced, plus asynchronous distance learning, communication survival skills and basic computer skills. There is also a course offered for Afghan evacuees, many of whom speak no English upon arrival in America.
We give students the skills they need to succeed, which is very rewarding to me," Ana says. "We have an amazing community here, and I love seeing the friendships that develop among the students and teachers."
The backgrounds of those who take ALP classes are diverse, with students ranging in age from 18 to 70, although most fall within the 25-34 range. "Most speak Spanish at home and some at work," Ana says. "They come to us because they want to improve their work situation, or communicate with teachers better, or just be able to order a cup of coffee without feeling nervous."
Four of her staff members speak Spanish, which Ana says "makes a huge difference," but there are still many challenges. Some students are simply hesitant to take classes as a non-traditional student; some cannot find public transportation to bring them to BCC; others struggle with finding the time. And, as the popularity of the classes increases, still others are placed on what is sometimes a long wait list. Ana regularly makes referrals to other programs or services in the county for those who cannot attend BCC classes, such as ESOL classes in other towns or high school equivalency testing.
Coming to this country can be overwhelming," Ana says. "We don't only teach people English — we also strive to give them the tools they need to become part of our community, such as showing them how to access important resources like healthcare."
Success stories are plentiful. Among many possible pathways, BCC's ALP students enroll in for-credit classes at BCC; become Certified Nursing Assistants; manage restaurants; or open their own businesses. Ana says she is continually inspired by her students, especially the ones who struggled for years and now enjoy success. "They just blow me away," she says, recalling two instances in particular in which the ALP program made a tremendous difference in the lives of the students who took the classes.
One couple had resided in the Berkshires a few years before connecting with the BCC ALP program. "They were both really talented, but neither had strong English skills," Ana says. "They were feeling overwhelmed and not sure they wanted to stay here." After enrolling in beginner-level classes, the couple quickly began gaining confidence, and the wife began making and selling masks during the pandemic. The ALP's advisor helped her apply for Entrepreneurship for All (known as "EforAll"), a business acceleration program for small business owners. Her business is now blossoming into a full-time tailoring operation out of a home she and her husband proudly own.
Another student came to BCC's distance learning program after working in housekeeping for many years. She wanted a job in health care, Ana says, and she knew that meant improving her English skills. Two years ago, she took the phlebotomy course and passed the test. Today, she works at Berkshire Health Systems, but she still wants to continue her education. "She's now a high-intermediate to low-advanced English speaker, and she's told me she wouldn't have had the confidence to pursue the phlebotomy certificate unless she had enrolled in our program," Ana says.
When not busy at BCC's Great Barrington office, Ana enjoys hiking with her husband Tim and bernedoodle Hugo, her "pandemic puppy." And, even though she calls her career path "roundabout," she's thrilled to be back to her roots — back to the Berkshires, where her story began.
For more information about the ALP program, email alp@berkshirecc.edu or call (413) 236-5260.
The BCC Adult Learning Program is funded by the Massachusetts Department of Elementary and Secondary Education, Adult and Community Learning Services. The Afghan evacuee classes are sponsored by Jewish Family Services of Western Massachusetts.