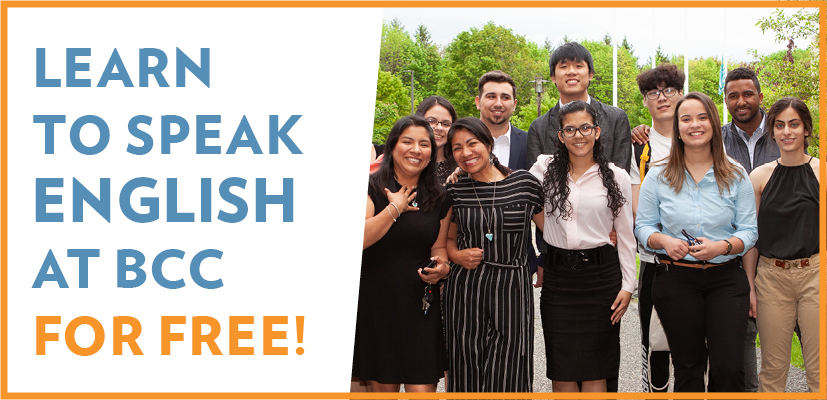 Adult English for Speakers of Other Languages (ESOL) Program
The Berkshire Community College (BCC) Adult English for Speakers of Other Languages (ESOL) Program (AEP) offers three levels of ESOL instruction. All the classes are designed to assist non-native English speakers, primarily immigrants, assimilate into the community and support them in reaching their academic and career goals. Classes focus on English reading, writing, listening and speaking skills. However, critical thinking, digital literacy, civics, and navigating systems skills are also integrated throughout the curriculum. In our programs, students do not just learn the English language, they also learn how to access the resources necessary to succeed and thrive in the community and in the workplace.
| Class | Days | Location | Time |
| --- | --- | --- | --- |
| Morning English | Tuesdays and Wednesdays | Great Barrington | 9 a.m. to noon |
| Evening English | Tuesdays and Wednesdays | Lee and Great Barrington | 6 to 9 p.m. |
| Conversation | Thursdays | Great Barrington | 6 to 8 p.m. |
| Basic Computer Skills | Mondays, starting Jan. 1, 2023 | Great Barrington | 6 to 8 p.m. |
Who are the BCC ESOL students?
Danielle Montiero
Danielle was a BCC AEP student for over three years. Danielle came to our program with a long-term goal to enter the healthcare field, but she knew she needed to improve her English before she could start her career. Danielle enrolled in our distance learning course and in 2021, after improving her English language skills and confidence, she enrolled in the phlebotomy course at BCC. Danielle completed the course, passed the certification test, and immediately accepted a position as a phlebotomist at Berkshire Health Systems.
Are you interested in learning more about FREE ESOL classes? If so, fill out our inquiry form!
BCC ESOL Students have gone on to rewarding career and educational activities.
Build small businesses

Learn about opening your own business through the BCC Certificate in Entrepreneurship

Grow as creators

Train to build sets for local theaters or learn how to use a 3D printer in the BCC Science Commons
Expand Hospitality and Culinary Skills though BCC classes and certificate programs

Develop as Healthcare practitioners

Earn a Certified Nursing Assistant, Phlebotomy or Community Health Worker Certificate through the BCC Allied Health programs

Past and Current AEP students work at

Berkshire Health Systems
Guido's
Interprint
Kripalu
Miravel
Questions? Get in Touch
Email: alp@berkshirecc.edu
Phone: 413-236-5260
Or, visit us:
Adult ESOL Program
352 Main Street, Suite 212
Great Barrington, MA 01230
The BCC Adult ESOL Program (AEP) is partially funded by the Massachusetts Department of Elementary and Secondary Education, Adult and Community Learning Services.