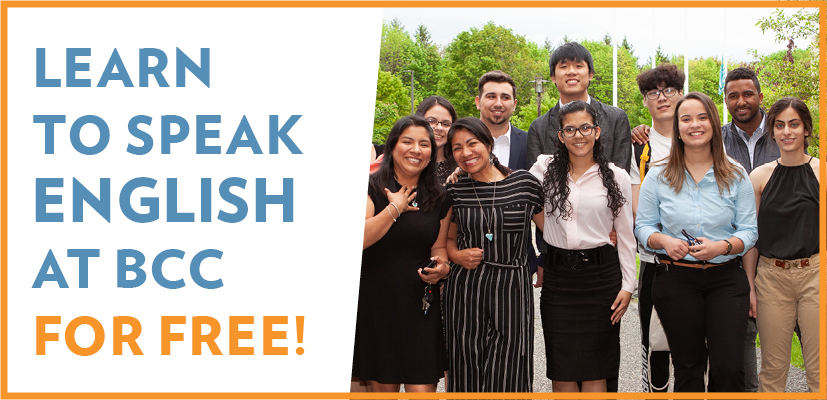 Learn to Speak English for FREE

The BCC Adult ESOL Program (AEP) offers FREE English for Speakers of Other Languages (ESOL) classes to non-native English speaking adults.

The AEP helps students prepare for higher education and career training by providing high quality instruction and referring students to community resources as needed. AEP students have enrolled in for credit classes at BCC, have become Certified Nursing Assistants, restaurant managers and opened their own businesses.

Questions? Get in Touch

Email: alp@berkshirecc.edu
Phone: 413-236-5260

The BCC Adult ESOL Program (AEP) is funded by the Massachusetts Department of Elementary and Secondary Education, Adult and Community Learning Services.
Morning English Classes

Evening English Classes

Conversation Class
Basic Computer Skills

Hybrid:

Tuesday and Wednesday
Great Barrington
9:00 am to 12:00 noon

Hybrid:

Tuesday and Wednesday
Lee and Great Barrington
6:00 pm to 9:00 pm

In person: Thursday
Great Barrington
9:00 am to 12:00 noon

Online: Thursday
6:00 pm to 9:00 pm

In person: Thursday
Great Barrington
6:00 pm to 9:00 pm
ENGLISH FOR SPEAKERS OF OTHER LANGUAGES (ESOL) SEQUENCE CLASSES

Beginner, Intermediate and Advanced Level Classes: Leveled classes for non-native English speakers that focuses on Reading, Writing, Speaking and Listening skills. Students will be given a placement test prior to enrolling.

DISTANCE LEARNING

Distance Learning ESOL Cohort: Distance Learning students are coached through a self—paced, individualized online program, Burlington English, to learn English. Students must have basic computer skills, be self-motivated and be at least a high beginner English language level to enroll.

SUPPLEMENTAL COURSES

Conversation Class: A class for beginner and low intermediate students that focuses on the speaking and listening skills necessary to manage daily life in the Berkshires.

Basic Computer Skills Class: For all English language levels, this class teaches basic computer skills including computer shortcuts, email, calendars and formatting.



Getting Your High School Equivalency Credential

Here are some resources for students who want more practice or for students who are waiting for a space in our English classes.

You can also... watch television in English. Listen to the radio in English and learn songs in English. Read books in English (at your level). Children's books are wonderful when learning a new language. Try to meet English speaking people and have conversations with them. Look on YouTube for English lessons.