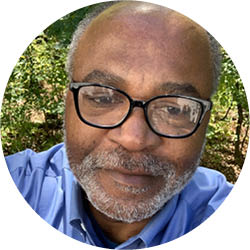 Staff Spotlight
Geoffrey Tabor
Coordinator of Transfer Affairs/Articulation
my

Fortuity

Sometimes it takes being in the right place at the right time. When Geoffrey Tabor, Coordinator of Transfer Affairs/Articulation, first visited BCC in 1995, it wasn't by invitation. He simply showed up on campus and inquired about teaching sociology or psychology courses. There weren't any current openings, but about six weeks later, he received a call.

"They said there was a career development coordinator position open and asked if I would be interested," Geoffrey recalls. "I had done some career development work in grad school, so it was a perfect fit. It was fortuitous."

Originally from Ohio, Geoffrey earned his undergraduate degree from the University of Dayton and worked for several years as social worker in the area. Eventually, he decided he wanted a career shift, so he enrolled in a master's program to study higher education administration at Miami University in Oxford, Ohio, where he stayed on as an academic enhancement coordinator for about five years before moving to the northeast.

"I was working at SUNY Albany, helping students of color get into medical and business school. The program was funded through the National Science Foundation and a Howard Hughes grant. I loved my job, but I wanted something more stable," Geoffrey says. "A colleague at SUNY encouraged me to reach out to BCC. She said it's a very dynamic place — there's a new president and there's a lot of energy."

Twenty-seven years later, Geoffrey still feels that energy. Moving from career development to the transfer realm in 2005, he now works out of the Academic Advising office, where he assists a large number of students in navigating the transfer process each year.

"Some of them are brand new and have no idea what transferring entails, or maybe they've heard stories about people transferring and none of their credits were accepted," Geoffrey says. "Or, maybe they're heard about others who have gone on to Cornell or Northeastern and have graduated with honors."

He isn't shy about recommending students get an associate degree from BCC before transferring, even to those who had only intended to take a few classes.

"The advantages of completing an associate degree at BCC are limitless," he says, noting that it isn't just about spending less money per credit hour. Anecdotal evidence shows that students who complete their associate degree from a community college have a statistically better chance of completing a bachelor's degree than "native" students (non-transfer students at a four-year university).

"So, the first order of business is to try to sell the student on completing an associate degree here, which eliminates all the hand wringing and puts them on a fast track," Geoffrey says. "But if they don't want to do that, I might contact the school and say, 'I've got a student who wants to enter your marine biology program. What courses should they take to put them on the correct pathway?' We strive to make the student aware of how their credits will transfer, what credits they'll need and how they'll be applied."

Of course, not all students know exactly what they want to pursue or where they want to transfer, and that's when Geoffrey steps in to help. He stresses that no appointments are needed, and students passing by Academic Advising between classes can stop by and get information on everything from filling out the transfer version of the common app to getting official college reports sent to schools. Transfer fairs are also beginning to resume in person, with university and college representatives on hand to talk to BCC students.
If a student is not sure where they want to go after BCC, I help them develop a transfer profile. I ask questions like, 'Do you want an urban, suburban or rural school? What academic areas interest you? Would you prefer a large school or small? Are you eligible for financial aid or scholarships?' Then, I find schools that match. I help them clarify their expectations.
One of the advantages of working out of Academic Advising department, says Geoffrey, is collaboration. "I tell my colleagues about the Mass Transfer program and how articulation agreements work," he says. In return, he fields questions like, "Is this student on the right track to study biology at UMass once they leave BCC?"
The College has articulation agreements with many state colleges and universities, such as UMass Amherst, UMass Boston and MCLA, and private articulation agreements with schools such as the University at Albany, Western New England University, Rensselaer Polytechnic Institute and Springfield College. Those agreements are important, Geoffrey says, because "they help students understand what's ahead of them. We want to make them aware of the transfer admission requirements and parlay that into a smooth transition."
Geoffrey says one of the highest compliments he gets is when admissions representatives from other schools praise BCC's transfer program. "A particular school recently said the thing they like about BCC students is that they come prepared. They have all their ducks in a row. They know what the requirements are," Geoffrey says, adding that there are too many success stories to count. One that comes to mind is an international student who earned an associate degree from BCC, transferred to Williams College for a bachelor's degree and ultimately received a law degree from Stanford University.
"You can't get a higher compliment than that. I tell students, if you have the mentality and you have the grades, go for it," Geoffrey says. "It's a win-win situation."
A resident of Williamstown, Geoffrey is passionate about travel and plans to cross more locations off his bucket list as the pandemic eases. For now, he takes any opportunity he can to be outdoors to hike and fish. He also enjoys reading, listening to NPR and watching Ohio State football.