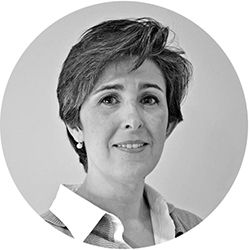 Staff Spotlight
Eleanore Velez
Admissions Counselor and Coordinator
my

passion

Eleanore Velez, an admissions counselor and coordinator of the Multicultural Center at Berkshire Community College (BCC), is passionate about education.

Velez, who has worked at BCC since the fall of 2007, was born and grew up in Mexico City, Mexico. As a girl, she spent thirteen summers at Chimney Corners Camp, a YMCA camp in the Berkshires. She later became a counselor and then the Youth Travel Programs director.

She later worked for the YMCA in New York City and eventually returned to the Berkshires and volunteered as the chairwoman for the Latin American Council where she helped Latinos, a population that grew more than 25 percent in the early 2000s, relocate to the area.

Velez has always seen herself as a "natural advocate."

"I believe that through education we can reach our full potential not only by improving our own personal circumstances, but because we can understand others better and collectively work towards the common good. I have been blessed to work along those who are pursuing that goal, said Velez.

At BCC, she has assumed a leadership role in fostering a welcoming and engaging campus for students from ethnically and culturally diverse backgrounds so that they are able to thrive and achieve their full potential. She also serves as a liaison and advocate with community agencies and various college offices to enhance the dialogue that leads to deeper community integration.

BCC student Juan Jose Carrion-Almeida remembers meeting Velez during his first visit to BCC. "I'm an immigrant and the only thing I had at that time were dreams. Eleanore explained all the requirements to enroll at BCC, which were difficult because of the paperwork involved as well as the expense. I thought it was going to be impossible. Eleanore then talked about the benefits. She explained how important is to have a degree in America and where could higher education lead me. She lighted a spark inside - and turned it into a fire," he said.

Carrion-Almeida would visit her office many other times. Five years after their first meeting, in the fall of 2013, he enrolled at BCC.
She would always remind me about taking the train to success by enrolling in college.
"The first thing I did after enrolling for classes was go to Eleanore's office to give her a big hug and thank her for her persistence. I see her now as a friend, but most importantly as a role model," said Carrion-Almeida.
Velez has garnered numerous awards for the inspiration and guidance she has provided to hundreds of people in the Berkshires. Her accolades include the Berkshire Immigrant Center's Jane Addams Spirit Award and the Multicultural Competence Award from Multicultural Bridge, a Berkshire County based organization that promotes mutual understanding and acceptance among diverse groups by serving as a resource to both local institutions and the community at large.
In the fall of 2014, she was honored at the Literacy Network of South Berkshire (LitNet) annual gala with the organization's sixth annual Founders of America Award, which pays tribute to immigrants who have made important contributions to American society in general, and to life in the Berkshires in particular.
Velez holds an associate's degree from BCC and a bachelor's degree from Mount Holyoke College.
She resides in Lee, MA.