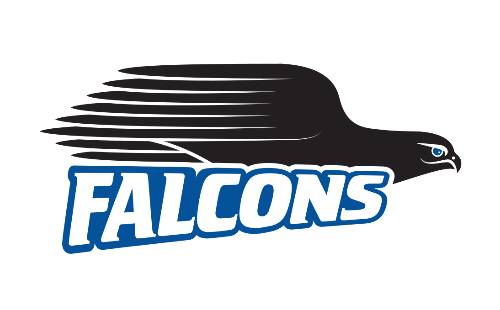 December 2, 2015
Club Teams and intramural sports are growing and thriving at Berkshire Community College (BCC) after being dormant for more than a decade. BCC today unveiled a new Falcons logo to be used for future promotions and marketing of the institution's athletics program.
The event, attended by members of the BCC community including students, faculty and staff, members of the College's Club and Intramural Teams, correlates with the start of the Falcons Club Basketball Team's third season.
"Sports at BCC has been successful in recent years for many reasons. Our students have the flexibility to attend practices when they are able and games are never during times that classes are held. We know that students who are actively engaged in College beyond the classroom tend to stay in school. They have a built-in support system and a sense of community. The comradery and pride amongst our players, their dedication to both their studies and their teams have been remarkable," said BCC President Ellen Kennedy.
The Falcons Logo
The falcon has been BCC's mascot since the 60's and was inspired by the Peregrine Falcon –considered by many cultures to be a symbol of power. Peregrine Falcons are the fastest animal on earth, clocking up to 200 miles per hour. They average a wing span of approximately four-feet and measure approximately two-feet from nose to tail.
The new logo was created by BCC Graphic Designer and 2003 alumnus, Erin Murphy. Speed was the main concept driving the visual direction of the logo design, which features the official brand colors of BCC.
After researching hundreds of photos of falcons in the wild, Murphy opted to create the logo focusing on the side view – stylizing the illustration and font to create sense of motion.
The logo will be used on all of the team jerseys and the BCC bookstore will also carry items such as hoodies and T-shirts with the mark.
The Reinvigoration of Sports at BCC
BCC has a rich history of athletics and intramurals. For many decades, both a basketball and soccer team existed and were members of the National Junior College Athletic Association Conference. In the early 1970s, the soccer team performed well and even traveled to Florida to compete.
Several years of successful basketball intramurals were held at BCC throughout the 1990s into the early 2000s.
BCC's Director of Recreational Services Lauren Pellegrino joined BCC in 2013. A former basketball player for Monument Mountain High School and Adelphi University, she aimed to revive sports at BCC as part of the institution's wellness initiative and worked with students to form soccer, basketball and cross country teams. Since that time the intramural teams have evolved into club teams.
"It was clear to me when I started working at BCC that there were many students interested in playing sports. We've got some strong, talented players and it's been thrilling to see their dedication and growth. The creation of the Falcons logo is just another step forward for our athletics program. We want to show current and prospective students that sports teams at BCC are here to stay," said Pellegrino.
In fall 2014, BCC joined the newly formed Southern New England Club Basketball League (SNECBL), which consists of ten teams that are separated into two divisions. Last season BCC participated in the NIRSA Regional Club Basketball Tournament at UMass Amherst. The only two-year institution competing in the men's basketball bracket consisting of 20 teams, BCC made it to the semi-finals of the entire tournament.
BCC's Club Soccer Team recently joined the NIRSA League as part of the Region 1 Conference in the Northern Division and had a challenging, but successful season. The Cross Country Team participated in nearly 10 races throughout Berkshire County this semester.
BCC has added three new club teams including: indoor track, wrestling and co-ed weightlifting.
For more information about BCC's athletic teams, click here.