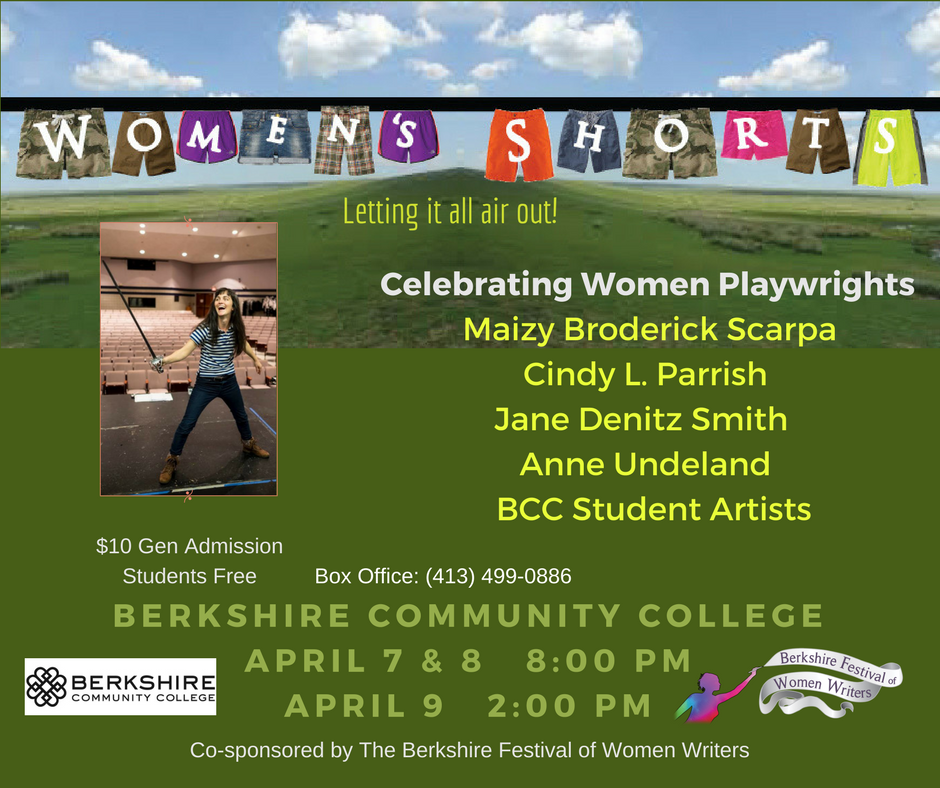 Announcing WOMEN'S SHORTS: a showcase of short theatrical pieces by women playwrights & performers at Berkshire Community College's Boland Theater in Pittsfield, April 7th-9th.
The brainchild of Founding Artistic Director, Yvette "Jamuna" Sirker, WOMEN'S SHORTS debuted in 2015, with tremendous success as part of the Pittsfield, Massachusetts 10 X 10 Festival at Ghazi
Kazmi's The Whitney Center for the Arts. Jamuna's mission in creating WOMEN'S SHORTS is to celebrate theater and dance created by female multi-disciplinary artists. She is pleased to present
Cindy Parrish as the WOMEN'S SHORTS' 2017 Artistic Director in Residence.
This April 7-9 WOMEN'S SHORTS will be co-produced with Berkshire Community College's Theater Department and Technical Director, Kevin McGerigle. Local playwrights and performers Anne Undeland, Jane
Denitz Smith, Cindy L. Parrish, and Maizy Broderick Scarpa are this year's featured artists. BCC students will also participate in both performance and technical capacities. WOMEN'S SHORTS will run annually at BCC.
We are grateful to The Berkshire Festival of Women Writers for co-sponsoring this exciting event.
The Plays
Part music hall, part Grand Guignol, The Marrow in the Bone, by Jane Denitz Smith, is a short play with music based on actual events in 19th century Russia: the publication
date of cookbook sensation Elena Molokhovets', "A Gift to Young Housewives" coincides with Tsar Alexander II's proclamation emancipating all serfs. And so the world tilts in a whole new direction.
WomAnimal, performed and written by Cindy L. Parrish, begins when a wildlife zoologist steps out of a lecture to her graduate class
on wolf biology, and mythologically (& menopausally) transforms into her true Nature.
What do you do when your closest friend is diagnosed with terminal cancer? Anne Undeland's, The Luckiest Unlucky, is a meditation on love and an exploration of the transformative power of female friendship.
Maizy Broderick Scarpa's, Adults, follows two sisters in their 50's as they navigate feelings, friendship, and funeral logistics in the wake of their mother's death: Was it my fault? Who are you
supposed to call when someone dies? Are you wearing my shirt again?!
Please join us for WOMEN'S SHORTS – where the voices of women take center stage!
For more information, or to reserve tickets, call the BCC Box Office at 413-499-0886