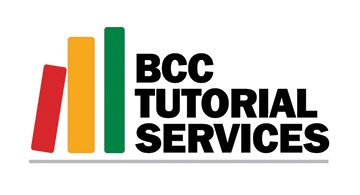 Need help or other Academic Support for your course work?
BCC Tutorial Services is the place for you.
Our mission is to enhance your potential for academic success, leading to a degree or certificate. Tutorial Services is available FREE to any BCC student currently registered in a course.
A tutor can help you:
Clarify an assignment
Organize your materials
Understand course content
Connect readings to lectures
Prepare for tests and quizzes
Evaluate and revise your writing
Develop study strategies
Tutoring for most BCC courses is available through Tutorial Services. Most students meet one-on-one with a tutor, some in small groups, and others take advantage of online tutoring. Many tutors are current BCC students who have taken the course they tutor. Other tutors come from the community with expertise in many areas. Come to the Tutoring Center and complete a "Request for Tutor" form. Tutorial Services is dedicated to matching students with the best available tutor for that course.
Visit the Tutoring Center!
Tutorial Services staff is here to help you.
Location: Koussevitzky Arts Center, Room K-214 (use the entrance closest to the Library).
Hours: The Center's hours of operation are 8:00 AM to 4:00 PM. Tutoring is available after 4:00 PM and at the South County Center.
Contact:
Main number — 413-236-1650
Joe Hennessey, Coordinator of Tutorial Services — 413-236-1651
Tutorial Services offers a number of activities designed to support your academic success. One-on-one and small group tutoring is available for most classes. Drop-in Help Centers for Math and Writing are open at various times through the week. Find Drop-In Help Center schedules in the Tutoring Center.
Online Tutoring
BCC uses Smarthinking Online Tutoring to allow students to access tutoring in Math and Writing at times most convenient to the student. This is ideal for students enrolled in online classes and for those unable to get to the Tutoring Center. All students currently enrolled in a BCC credit course may use Smarthinking at no cost. Students may work one-on-one with a Math or Writing Online Tutoring, or submit questions to a tutor. Online tutors are available on a drop-in basis for immediate help, and by appointment.
Drafts of writing for any course may be submitted to Smarthinking and students will receive the draft back with analysis and suggestions to improve the written document within 48 hours. This may be a paragraph, an essay or an entire college paper.
Find the link on any Moodle page (lower left under Moodle Help).
Strategies for Academic Success
Success in college is enhanced by learning and putting into practice proven Student Success Skills strategies. Tutorial Services provides sessions, workshops and general help with these strategies, including:
Getting and Staying Organized
Effective Listening and Notetaking
Textbook Reading
Your Preferred Learning Style
Memorization and Test Taking
Time Management
Come to the Tutoring Center to schedule a Student Success Skills session on one or more of these topics. Students may also find helpful printed handouts on these topics and more in the Center.
Want to Become a Tutor?
Peer Tutors are current BCC students who are recommended by their professors to tutor in a certain course or subject. They bring a valuable connection to the classroom and faculty to Tutoring. Peer Tutors must have earned a "B" or better in the course they wish to tutor. Peer Tutors are paid at the current student employment rate.
Community Tutors are local people from a variety of backgrounds and expertise. They can offer a practical application and experience with many fields of study to the Tutoring Center. Community Tutors are also paid for their time.
If you would like to become a Tutor at BCC's Tutorial Services, call Joe Hennessey, Coordinator, at 413-236-1651 or via email at jhennessey@berkshirecc.edu.