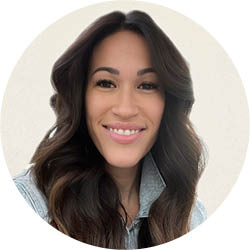 Student Spotlight
Kaitlyn Barry
Salutatorian, Class of 2023
my

Accomplishment

On the surface, it might not be surprising that BCC salutatorian Kaitlyn Barry got an A in the first class she ever took at the College, followed by an A in the next class. And the next. But it was surprising to Kaitlyn.

"I thought, this is insane! I had never gotten higher than a C in any of my high school classes," Kaitlyn recalls. By the time she got halfway through her associate degree, she decided to go for a 4.0 GPA, a goal she accomplished after stepping outside her comfort zone and overcoming her fears.

"I knew I was on track to graduate with a 4.0, but I wasn't expecting to be salutatorian — I was just excited to graduate with good grades," she says. "When I got the call, I was silently crying on the phone. I couldn't speak. I absolutely freaked out."

It was an unexpected outcome for the 2005 high school graduate, who did not begin college classes at BCC until 2019. Having grown up in Sheffield and now living in Monterey, Kaitlyn says she had no ambition to go to college, instead choosing cosmetology school. She has been a hair stylist in the Berkshires for 16 years, currently working at a salon in Stockbridge — a job she loves. But after facing major obstacles in her life, Kaitlyn decided to challenge herself by advancing her education.

Now in recovery, Kaitlyn has been sober for nine years. During her recovery journey, she met many people who had taken classes at BCC. "I heard a lot of amazing things about it, and I also knew quite a few teachers and faculty from doing hair," she says.

Starting off slowly, Kaitlyn took a class or two at a time. As her confidence grew, she added more classes, eventually enrolling full time with a major in criminal justice — an irony not lost on her.

"Because of my alcoholism, I had been working against the system for most of my life. But when I got sober in 2014, I became interested in how the criminal justice system worked, especially while being in recovery," she says, adding that she found a particular interest in recidivism rates.

"Now I look at the criminal justice system and authority in a different light. I find it really fascinating," says Kaitlyn, whose two brothers were police officers.

With her associate degree in hand, Kaitlyn is considering going on to earn a bachelor's degree at Westfield State University, known for its strong criminal justice program, but she is keeping her options open. "I love doing hair and I love my career," she says. "Initially, going to BCC was more about challenging myself, and then it evolved into this fascination. I took a criminal law class and thought law school could be in my future, but I haven't nailed down a concrete plan at this point. There are so many possibilities in this field."

Kaitlyn readily praises BCC for making her feel comfortable right away, whether asking questions at the admissions office or requesting tech support for Zoom sessions during the pandemic.
The level of support at BCC is like nothing I've ever experienced. The first class I took felt like I hit the jackpot because my professor was amazing, but that kept happening class after class. There's this absolute powerhouse of faculty members. I never felt like I was swallowed up among the other students.
Kaitlyn describes the courses she took as challenging but fulfilling, recalling that she was "blown away" by the number and variety of courses offered within her major. She speaks especially fondly of Professor of Criminal Justice Reena Bucknell, who served as Kaitlyn's advisor and taught all of her criminal justice classes.
"She was and has been my rock through this entire experience," says Kaitlyn, who finally met Bucknell in person for the first time at the commencement ceremony. "I would write Reena these emails absolutely melting down. I get emotional when I think about how incredible she was."
Bucknell was the first person Kaitlyn contacted when she found out she had earned the title of salutatorian — just the second time a salutatorian has been named since 2005. "She was screaming in the phone. She was so excited for me," says Kaitlyn, who calls Bucknell "a tough teacher, but if you worked really hard in her class, she was amazing. I adore her."
With BCC graduation behind her, Kaitlyn has devoted the summer to working longer hours at the salon and volunteering for hospice care, but she still makes time for a weekly commitment: visiting her 100-year-old grandmother, who lives an hour and a half away in Springfield. "It's my favorite day of the week – I love hanging out with her," says Kaitlyn, who describes her grandmother as an "incredibly sharp woman who is always dressed to the nines."
Kaitlyn, who is training for her second marathon, is an avid runner and golfer who also loves to read, especially true crime, psychological thrillers and suspense. Her healthy lifestyle is a constant reminder of how far she has come since she began recovery, and her title of salutatorian at BCC is a symbol of her strength and perseverance.
"I worked alongside some really impressive people who made my experience at BCC worthwhile," she says. "It was challenging and stressful at times, but it was worth every second."