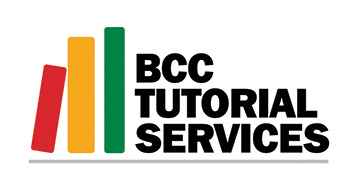 No matter the degree or certificate program, tutoring can give you a deeper understanding of your coursework and set you up for academic success. BCC's Tutorial Services provides tutoring for most courses, and is available one on one, in small groups, and even online. Tutorial Services are offered FREE to any BCC student currently registered in a course.
Our highly skilled tutors are trained to help you:
Clarify an assignment
Organize your materials
Understand course content
Connect readings to lectures
Prepare for tests and quizzes
Evaluate and revise your writing
Develop study strategies
Request a Tutor Now
When and Where?
Jonathan Edwards LIbrary
Monday - Friday
8:00 a.m. to 4 p.m.*
*By appointment after 4:00 p.m.
Tutorial Services also available at our South County Center
Interested in sharing your expertise as a BCC Tutor? Both Peer Tutors and Community Tutors are compensated for their time.
Contact Us
Email: tutorial@berkshirecc.edu
Phone: 413-236-1650
Our Staff
We'll match you to the best available tutor—Peer or Community—for your course and your needs. Visit us to complete a Request a Tutor form.
Peer Tutors are current BCC students who are recommended by their professors to tutor in a certain course or subject. They bring a valuable connection to the classroom and faculty to their work. Peer Tutors must have earned a B or better in the course they wish to tutor.
Community Tutors are local people from a variety of backgrounds and expertise. Some have prior classroom experience, and all are able to offer a practical application of many fields of study.
Online Tutoring
At BCC, we use Smarthinking Online Tutoring, which allows you to access tutoring in math and writing at times that are most convenient for you. This is especially valuable for students enrolled in online classes and for those who are unable to visit the Tutoring Center. Through Smarthinking, students are able to work one-on-one with a math or writing online tutor; tutors are available on a drop-in basis for immediate help, or by appointment. You may also submit questions to be answered by a tutor.
Drafts of writing assignments—a paragraph, an essay, or an entire paper—for any course may be submitted to Smarthinking, and you will receive the draft back with analysis and suggestions for improvement within 48 hours. Find the link on any Moodle page (lower left under Moodle Help.
Like all tutoring at BCC, Smarthinking is available at no cost, to all students currently enrolled in a BCC credit course.
Student Success Skills
When you practice proven student success skills, your learning is enhanced and your knowledge deepened, and you feel supported on your path toward success in a degree or certificate program. Tutorial Services provides sessions, workshops, and general help with these strategies, including:
Getting and staying organized
Effective listening and note taking
Textbook reading
Your preferred learning style
Memorization and test taking
Time management
Schedule a Student Success Skills session on one or more of these topics by making a request at the Tutorial Services center. We also have helpful handouts on these topics and more that you can take with you.